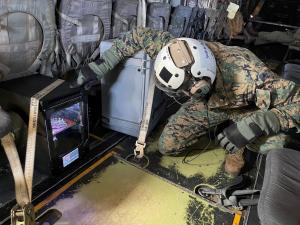 U.S. Marine Corps Lt. Col. Michael Radigan checks on the 3D printing of a medical cast aboard an MV-22 Osprey from Marine Medium Tiltrotor Squadron (VMM) 164 during a training flight near Twentynine Palms, Calif.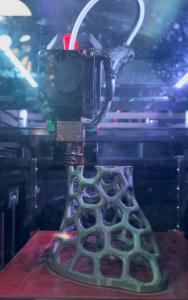 A medical cast is produced by a 3D printer aboard an MV-22 Osprey from Marine Medium Tiltrotor Squadron (VMM) 164 during a training flight near Twentynine Palms, Calif.
MONTEREY, CALIFORNIA, USA, July 5, 2023/EINPresswire.com/ — The Consortium for Additive Manufacturing Research and Education (CAMRE) at the Naval Postgraduate School (NPS) achieved the first successful demonstration of in-flight 3D printing aboard a U.S. Marine Corps MV-22 Osprey tiltrotor aircraft on June 21 in Southern California.
CAMRE's operational demonstration, which involved the printing of a medical cast aboard an airborne Osprey, was part of larger-scale exercise support provided by CAMRE and the Marine Innovation Unit (MIU) to forces participating in an integrated training exercise (ITX) at Marine Corps Air Ground Combat Center Twentynine Palms, Calif., from June 10-22.
This successful test of in-flight additive manufacturing represents a capability which could prove vital for rapid response during any contested logistics scenario.
"We are in a unique position to rapidly support the joint force and accelerate the adoption of advanced manufacturing," said Chris Curran, program manager at CAMRE. "This is just one of many events we are committing resources to where we share our research and deliver equipment and know-how to servicemembers."
CAMRE worked in collaboration with the MIU and Marine Aircraft Group (MAG) 39 from Marine Corps Air Station Camp Pendleton, Calif., to set up the demonstration. The flight was conducted with the support of Marines and aircraft from the "Knightriders" of Marine Medium Tiltrotor Squadron (VMM) 164, commanded by Lt. Col. Casey Nelson.
The printer utilized in the demonstration, the Advanced Manufacturing Operational System (AMOS), was developed by Spencer Koroly, an engineer at Naval Information Warfare Center (NIWC) Pacific in San Diego. AMOS is renowned for its speed, reliability and expeditionary ruggedness when benchmarked to comparable systems.
"I see this as revolutionary, being able to print on the move," Koroly said. "Nothing is more expeditionary than printing medical devices and swarm robotics in the back of an aircraft."
During the test, the team began with a 3D scan of a Marine's arm, which was used to create a drawing of a medical cast assisted by generative design software. The cast itself was then printed while the Osprey was engaged in multiple ground and flight modes, including taxi, takeoff and in-flight maneuvers.
"We are just scratching the surface on the capabilities that will come from being able to 3D print in flight," said Lt. Col. Michael Radigan, who serves as a liaison to NPS from the MIU. "Dozens of printers being installed in a modular fashion aboard aircraft brings the ability for mobile production at a scale we have not experienced before."
As part of the ITX, CAMRE brought together operating forces from Marine Forces Reserve, I Marine Expeditionary Force (MEF) and 3d Marine Aircraft Wing to demonstrate a distributed manufacturing model in a contested logistics environment.
CAMRE's airborne 3D printing demonstration builds upon past successful operational demonstrations with the fleet, including the first deployment of a 3D liquid metal printer aboard USS Essex (LHD 2) during the Rim of the Pacific (RIMPAC) exercise in 2022.
The mission of CAMRE is to deliver immediate results to the warfighter, with a focus on accelerating expeditionary and domestic advanced manufacturing capabilities for the joint force. CAMRE proliferates new capabilities, delivering education and certifications to increase the talent pool for the joint force and validating concepts through operational exercises.
The Naval Postgraduate School provides defense-focused graduate education, including classified studies and interdisciplinary research, to advance the operational effectiveness, technological leadership and warfighting advantage of the naval service. For additional information, visit NPS online at https://nps.edu.
Lt. Cmdr. Ed Early
Naval Postgraduate School
+1 831-656-3567
[email protected]
Originally published at https://www.einpresswire.com/article/643189829/camre-helps-marines-take-3d-printing-to-new-heights