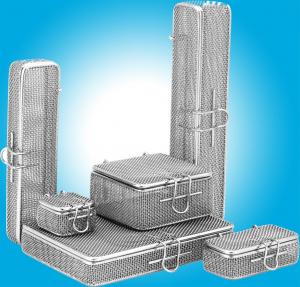 Essential Across Industries: Stainless Steel Mesh Baskets Prove Invaluable with Unmatched Versatility and Properties
SARASOTA, FLORIDA, UNITED STATES, August 16, 2023/EINPresswire.com/ — World Precision Instruments is Introducing remarkable products: stainless steel mesh baskets renowned for their exceptional corrosion resistance.
As industries push the boundaries of innovation, the importance of safety and excellence has never been more pronounced.
Designed to excel in a range of demanding industries including aerospace, defense, automotive manufacturing, and electronic assembly, these baskets offer an unparalleled solution. Stainless steel mesh baskets are highly corrosion-resistant, making them ideal for use in these industries. They can withstand exposure to chemicals, moisture, and extreme temperatures without deteriorating or compromising their structural integrity. This durability ensures a longer lifespan, reducing the need for frequent replacements and maintenance. They are constructed using high-quality materials and adhere to industry standards, ensuring compliance with safety protocols. Moreover, the non-reactive nature of stainless steel reduces the risk of contamination or chemical reactions during manufacturing or assembly processes.
World Precision Instruments is a pioneer in crafting high-quality products that set new industry standards. With a relentless commitment to safety, quality, and innovation, World Precision Instruments continues to be the preferred partner of choice for industries that demand nothing but the best.
For more information, visit www.wpiinc.com.
CARMEN RAYMOND
WORLD PRECISION INSTRUMENTS
+1 9413711003
email us here
Originally published at https://www.einpresswire.com/article/650254777/revolutionary-corrosion-resistant-stainless-steel-mesh-baskets-set-to-transform-diverse-industries