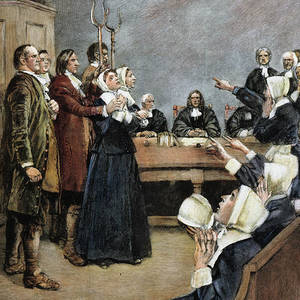 Salem Witch Trials, 1692 Painting by Granger
AHP will host a special luncheon featuring guest speaker Rachel Christ-Doane, Director of Education of the Salem Witch Museum in Salem, Massachusetts.
RENO, NV, UNITED STATES, July 21, 2023/EINPresswire.com/ — American Heritage Partners (AHP), a Nevada-based non-profit institution dedicated to presenting educational programs on American history, is pleased to announce the next luncheon in its "Distinguished Authors Lecture Series," featuring guest speaker Rachel Christ-Doane, the Director of Education at the Salem Witch Museum in Salem Massachusetts. Ms. Christ-Doane is a recognized expert on the Salem Witch Trials in 1692, and has authored and lectured frequently on this topic, one that is both colorful and tragic. Many historians consider the witch trials to be a black mark in our early American history, and August was a particularly noteworthy month in the history of the witch trials, as the very first hangings took place on August 19, 1692. Recognizing the significance of this, on the 300th anniversary of those hangings in August 1992 Nobel Laureate Elie Wiesel dedicated the first Witch Trials Memorial in Salem. The Witch Trials Museum is the most visited attraction in Salem, attesting to the public's enduring interest in the 17th century hysteria that the Salem witch trials embodied.
WHEN: August 25 from 11:30 am to 1:30 pm

WHERE: The Atlantis Resort, Paradise Ballroom , 3800 South Virginia Street, Reno, NV

COST: $35 per person (Registration Includes lunch)

REGISTRATION: https://www.americanheritagepartners.org
The luncheon will be co-sponsored by the Nevada Mayflower Society, The Order of the Founders and Patriots of America AND THE Sons of the American Revolution-Battle Born Patriots Chapter, and will take place on August 25 from 11:30 to 1:30 in the Paradise Ballroom of the Atlantis Casino Resort. The program is suitable for all ages, and school-age children are welcome to attend. Says AHP's President Jay Dickey, "our goal is to inform and educate our citizens about the important events that shaped American history. The Salem Witch Trials were a watershed moment in the early life of our country, and the trials still resonate today as an object lesson on the importance of the rule of law and our constitutional right to trial by jury."
ABOUT AMERICAN HERITAGE PARTNERS

American Heritage Partners, founded in 2021, has been sponsoring educational programs in several western states, most recently in California, Nevada and Arizona. AHP recently added to its Board of Directors Mr. Jim McLane, who also serves as its Treasurer. Mr. McLane is the current Treasurer for the Nevada Society of the Sons of the American Revolution as well as the Nevada Society of Scottish Clans. Later this year AHP will announce several grants and awards to organizations and individuals who actively promote the teaching of American history.
For more information, and to register for the luncheon, go to AHP's website, www.americanheritagepartners.org.
###
Courtney Meredith
Design on Edge
+1 775-460-7133
email us here
Originally published at https://www.einpresswire.com/article/645744048/american-heritage-partners-announces-luncheon-talk-on-the-salem-witch-trials