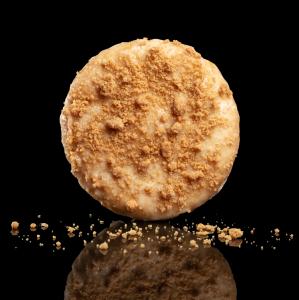 Crumbl® Unveils New Cookie Flavor Every Week and Announces Podcast
LINDON, UT, USA, September 11, 2023/EINPresswire.com/ — Starting September 11, 2023, Crumbl's cookie consumers will see a brand new flavor added to the menu every Monday for the rest of the year.
Crumbl offers six different flavors each week from the rotating menu of over 250 cookie flavors. This season, dessert lovers can indulge with even more classic desserts and seasonal delights transformed into cookie flavors.
To kick off the new cookie flavors, this week Crumbl presents Apple Cider Muffin: a warm spiced apple cider muffin-inspired cookie slathered in apple cider glaze and cinnamon brown sugar streusel.
Cookie Creations
When baking up something new, Crumbl looks to the seasons of the year as inspiration for cookie creativity. There is always something to celebrate, and what better way to celebrate than with a new dessert-turned-cookie from Crumbl!
But it's not just about uncovering hidden opportunities for new flavors; even familiar favorites need a twist. Some of Crumbl's most popular flavors are inspired by classic desserts: pies, brownies, cheesecakes, and candies. The nostalgia is key to bringing friends and family together over a pink Crumbl box on any occasion.
"I like to think of us as trendsetters," said Amy Eldredge, VP of Menu at Crumbl. "We put a spin on classic desserts by adding the Crumbl Touch."
Fresh Flavors
Crumbl's mission is to bring friends and family together over a box of the best cookies in the world. To offer the best cookies in the world, Crumbl strives for the best ingredients in their kitchens.
The core ingredients found in a Crumbl bakery are the same ones found in a home kitchen; even after testing all variations of flour, butter, and eggs for the ease of operations, Crumbl determined real flour, butter, and eggs produce the best tasting cookies.
Finding the right ingredients and processes is a constant endeavor at Crumbl. The bakers are always striving for clean practices and quality ingredients. "Fresh ingredients make the best cookies, and the cookies speak for themselves," Eldredge said.
Sweet Surprises
Along with new weekly featured flavors, cookie connoisseurs have another sweet surprise coming their way: coming soon, Crumbl is publishing a new podcast, "Crumbl Unboxed," where the weekly lineup will be unveiled. The podcast will also highlight meaningful moments from messages in the fan mail, direct messages through social media, and experiences from Crumbl customers.
ABOUT CRUMBL

Crumbl Cookies's mission is to bring friends and family together over a box of the best cookies in the world. Crumbl was founded in 2017 in Logan, Utah, by Jason McGowan and Sawyer Hemsley. In just five years, Crumbl has grown from a humble cookie shop to a booming franchise with over 890 locations across all 50 US states, Puerto Rico, and Canada. Its rotating menu offers new flavors every week, while regularly bringing back crowd favorites and unique original recipes. Crumbl is open from 8am–10pm on weekdays, 8am–12am on Fridays and Saturdays, and is closed on Sundays. Visit Crumbl online at crumblcookies.com, on social media (@crumblcookies), or at any of its nationwide locations.
David Stephenson
Crumbl Cookies
+1 801-362-2196
email us here


Originally published at https://www.einpresswire.com/article/655093677/each-week-gets-sweeter-and-sweeter-at-crumbl