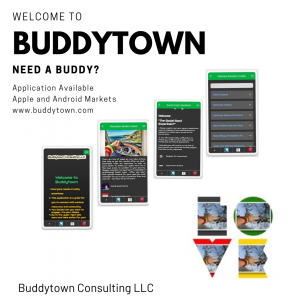 Los Angeles data scientist, Kristen Thomasino, releases Buddytown on Apple & Android markets to connect the chronically ill & others to community resources.
Personal trauma inspired me to create the Buddytown application. Before the virus, I was in rehabilitation from one of the most painful conditions in the world called Fibromyalgia. I had to find help."
— Kristen Thomasino | CEO Buddytown Consulting LLC
LOS ANGELES, CALIFORNIA, UNITED STATES OF AMERICA, August 16, 2023/EINPresswire.com/ — Thomasino Media learned that Buddytown Consulting LLC released a new application to Apple and Android markets called Buddytown, which is Free for users to download. Connecting users to resources and programs for Business, Wellness, Veterans, Homeless, Human Rights Causes, and more.
Buddytown was created by Kristen Thomasino, a two-time show host for "The Social Good Magazine Show" and "Woo! With Kristen Thomasino!" featured on 20+ Networks. Kristen partners with several organizations to engage with various advocacy causes. During her time in Los Angeles, California, and Charlotte, North Carolina, she learned how important connecting with the community is for survival. Thomasino experienced unexpected events and fell down 15 feet off stairs in January 2016; she was later diagnosed with Fibromyalgia. After a multi-year decline with her mobility, she battled through full-body pain with muscular weakness for a period and earned a successful rehabilitation. She focused on getting well and documenting what happened during that time of great suffering when she had trouble walking and doing basic functions that required the help of a professional neurology, rheumatology, vocational rehabilitation, mental health, and physical therapy teams.
Kristen Thomasino has a successful history of working in groundbreaking technology solutions, business best practices consulting, project management, and data science to help organizations nationwide. She retired after working for 14 years to help create one of the largest Fintech networks in the country, AvidXchange, Inc., to focus on her rehabilitation and to build a platform to help others who suffer. Partnerships and strategy are important for success. Thomasino went out over the last few years and invested in meeting new contacts as she built her media platforms and consulting organization.
Thomasino's entire platform, distributed on 25+ networks for audio and visual content, consists of many content pieces and instruments to amplify efforts happening for social good worldwide. The entire platform includes Buddytown, an application on Apple and Android, a market research study called "The Social Good Experiment," 22 publications including "The Social Good Magazine," the Thomasino Media inspirational merchandise store, "The Social Good Magazine Show," and "Woo! With Kristen Thomasino!", Think Tanks, Buddytown Networks for business, veterans, wellness, queer and human rights, public speaking opportunities, Fintech coaching sessions, motivational classes with Global Humanitarian Kristen Thomasino, opportunities to partner on consulting jobs and to amplify efforts to increase tourism and global trade.
The veteran community has always been important to Thomasino because of her family's service history in the United States Army. Thomasino's father, Lieutenant Colonel Dr. Joseph Thomasino, is a recipient of the Army Legion of Merit. Her grandfather, Vincent Thomasino, served in World War II at D-Day and was a decorated soldier, including the Bronze Star for Valor and Purple Heart, plus other medals for his service. Their examples inspired her to go to the local VA hospital in Los Angeles, California, to volunteer her time and learn more about the treatment of local veterans. She also branched out nationally to other organizations like Veteran Voices for Fibromyalgia.
Thomasino commented, "Partnered with Veteran Voices for Fibromyalgia team leader Army Veteran Kristal Kent and other teams like Soldiers of America with Dr. Lance McCarthy, and Joel Zubaid, it made sense to listen to the feedback and find new ways to get the message out. They have done great work creating programs; why not amplify their efforts and others nationwide? Buddytown helps drive people to resources for goods and services. After that, it's up to everyone to take action to better their own lives. I included several video resources from Thomasino Media productions, such as "The Social Good Magazine Show" and others from the Buddytown Network partner community, so people can meet leaders like Kristal Kent, who know how to work the process and utilize the system for access. "
Kristal Kent leads a national Fibromyalgia awareness and action campaign called #teamfibro. This initiative was successful this year in garnering support in the form of Congressional recognition by California Congressional Representative Nanette Diaz Barragan, five governor proclamations including Governor North Carolina Governor Roy Cooper, Texas Governor Greg Abbott, Indiana Governor Eric Holcomb, Colorado Governor Jared Polis, and Ohio Governor Mike Dewine. Baltimore County Executive John Olszewski also supported the initiative from Maryland. This initiative continues to grow as Kristal calls for more supporters for the 2024 campaigns for Fibromyalgia.
Thomasino shared, "Access to Veteran resources is just one example of what Buddytown is doing to connect others with opportunities for education, goods, and services access. Another option is to join a new market research study created by Buddytown Consulting called "The Social Good Experiment." The program provides a suite of data surveys for users to engage in. They also get other benefits by connecting with the Buddytown Networks. This is a way for others to get monthly insights into their behavior. At the end of an entire year, there will be a published anonymous study of all the results that participants will get a copy of and be part of learning more about their daily lives. This social good project is meant to challenge others to look introspectively with data science and be part of something that could change how we view the world by sharing how we live. Thomasino, inspired by past Nobel Peace prize recipients, believes we can unify through discipline, rigor, and accountability to create positive outcomes for the world by sharing our experiences with this anonymous study. "
The Buddytown application is a new way to access positive news and resources focused on what we can do to improve our lives and communities. Many organizations have chosen to focus on how to help others achieve positive outcomes nationwide. Thomasino commented, "At Buddytown, we always look for partners to add to our network for different resources. We make it easy to sign up and integrate at an introductory level. For organizations or private philanthropists looking to make a larger impact and share their message in lots of different ways, we have an integrated set of tools between Buddytown Consulting technology and services combined with Thomasino Media's brand for Social Good, "The Social Good Magazine Series" to help you achieve your goals for sharing your brand in new ways."
Thomasino Media and Buddytown Consulting will be partnering to bring more new content to users regularly through other media projects. Currently building for four upcoming seasons for The Social Good Magazine Series, founder Kristen Thomasino is scouting for new social good examples and stories to tell. Applications are open at https://www.socialgoodmagazine.com. Submit to be considered to be a Social Good Warrior highlight story.
Thomasino closed with, "The time for social good is now! We need more individuals willing to be positive examples for our youth and teens to look up to. It's time we focus on telling these stories and having many channels to get the word out to the masses. As the CEO of Thomasino Media, I am always looking for new channels to partner with and share content with. The world needs more positive content and voices vibing across the world. People like Raffles van Exel, featured in the Social Good Magazine Show Season 1 and Volume 2 of the magazine, is a great example with his team's song, "Why, Oh Why," which was created in collaboration with Emilio Estefan and Narada Michael Walden that includes the singing talents of Kenny Lattimore, CeeLo Green, Fantasia Barrino, and Emily Estefan. Uplifting content that challenges the traumas that have happened in our communities. The kind that transforms our lives and inspires us to be greater. Who wants to listen to negativity all the time when there are stories of success happening every day? It's about how we respond to trauma and keep moving that makes the difference in our day-to-day quality of life. Be a part of Buddytown! The time for social good is now!"
#teamfibro #fibromyalgia #socialgood #technology #podcast #music #losangeles #leadership #economicdevelopment #homeless #veterans #publicspeaker #humanrights #hr #ceos #buddytown #neurology #rheumatology #physicaltherapy #mentalhealth #vocationalrehabilitation
Kristen Thomasino
Thomasino Media LLC
[email protected]
Visit us on social media:
Facebook
Twitter
LinkedIn
Instagram
YouTube
Other
Buddytown features content from Thomasino Media productions. Watch Raffles van Exel Interview with The Social Good Magazine Show


Originally published at https://www.einpresswire.com/article/650273538/fibromyalgia-severe-brain-fog-rehabilitation-patient-releases-new-social-good-application-buddytown-to-assist-humanity