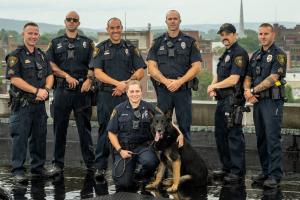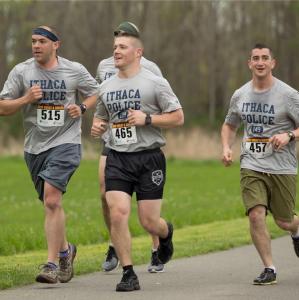 IPBA Members Participating in Local Community Fundraising Event.
IPBA & Community Members pose with an IPD vehicle wrapped to raise awareness around breast cancer.
Labor union representing Ithaca's finest encourages aspiring officers to apply at www.ipd-recruit.com.
We work for a great community, we're looking for the next generation of police officers to help us shape the future of law enforcement in Ithaca, everyone has something to bring to the table."
— Tom Condzella, PBA President
ITHACA, NEW YORK, UNITED STATES, August 3, 2023/EINPresswire.com/ — The labor union representing Ithaca's law enforcement professionals wants all aspiring police officers to know that there is still time to apply for the upcoming Ithaca Police Officer entrance exam. The deadline to apply has been extended to August 7th, 2023 at 4:30 PM.
The President of the Ithaca Police Benevolent Association, Thomas Condzella, said, "We work for a great community, we're looking for the next generation of police officers to help us shape the future of law enforcement in Ithaca, everyone has something to bring to the table."
Condzella described the Ithaca Police Department as a "small department with big opportunities" that aren't typically offered by law enforcement agencies of similar size. According to the Ithaca Police Department Recruitment Website, the 2023 Ithaca Police Department Recruitment Video, and other sources, there are several career opportunities and benefits offered by the IPD including:
Promotional opportunities to the ranks of Investigator, Sergeant, Lieutenant, Captain.
Specialty units and ancillary assignments such as K9 Unit, Specialized Response Team (SWAT), Crisis Negotiations Team, Traffic Crash Reconstruction Team, Crime Scene Unit, Recruitment Team, Honor Guard, Bicycle Patrol, Field Training Officer, and more.
Training and instructor development opportunities in Defensive Tactics, Emergency Driving, EMT, Firearms, Implicit Bias, Procedural Justice, Less Lethal Impact Munitions, Reality Based Training, and many more.
Additional information on the many unique career opportunities available at the Ithaca Police Department can be found through the IPD Career Opportunity Video.
Ithaca Police Officers make an annual salary of $89,884 after 3 years of service. Ample overtime opportunities are available along with Excellus Blue Cross / Blue Shield health and dental benefits, a wellness program, 20 year New York State Police & Fire Retirement System pension benefit, a free membership to "The Gym" (2 locations in Ithaca), along with access to the NYS Deferred Compensation Plan. Several other benefits are also available.
Condzella said, "As the PBA continues to negotiate with the City, it's clear that they care about their Officers and want to keep the dangerous job we do competitive with other municipalities, and attractive to new hires and lateral transfer officers." The current contract between the PBA and the City expires at the end of 2023. According to Condzella, both the PBA and the City have been at the bargaining table working hard to strike another deal. He added that he is extremely optimistic that a settlement on a successor labor agreement will be reached very soon.
"Like many police departments across the nation, we're short staffed. The Ithaca community and my members have been through some very difficult times together, but we continue to share one thing in common, we all want the same thing for our families and our children, a safe and vibrant community, we want a better tomorrow. Part of accomplishing that goal is getting more cops trained and on the street so we can better engage with and meet the needs of our community. We need more officers to be able to proactively police and expand the level of service we're able to provide. We also need officers so we so we can continue to train and maintain the level of professionalism that Ithaca demands of their police officers. Don't miss this opportunity to serve your community, take the exam and join us, you won't regret it," said Condzella.
The Ithaca Police Department currently has around 15 funded vacancies, with several more retirements anticipated in the coming months. Interested applicants can apply at www.ipd-recruit.com.
Thomas Condzella
Ithaca Police Benevolent Association
+1 631-481-6120
[email protected]
Visit us on social media:
Facebook
Instagram
2023 Ithaca Police Department Recruitment Video


Originally published at https://www.einpresswire.com/article/648032907/ithaca-police-officer-exam-application-deadline-extended-to-august-7th