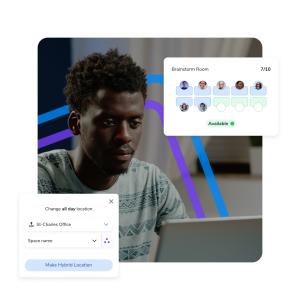 Flexy logo
Flexy's hybrid workplace engagement app, individuals will be able to easily network with peers, optimize synchronous work, and ultimately make smarter decisions when it comes to their day-to-day work.
Flexy Spaces streamlines the reservation process with its Smart Awareness AI, booking spaces based on employees' favorite places, colleagues, and work patterns.
Driving in-office collaboration and events requires a new approach for users to be able to book spaces of any kind and then share it with their team or colleagues when updating their workday location."
— Jeff Johnson, Flexy.ai co-founder and chief executive officer
DUBLIN, CA, USA, August 18, 2023/EINPresswire.com/ — Flexy.ai, creator of the first AI workplace engagement platform, brings a range of enhancements and features designed to upgrade the user experience and eliminate the fatigue of booking a desk or a meeting place.
Flexy Smart Awareness AI guarantees companies deliver the right space at the right time for their employees.
Flexy's desk booking feature introduces a new paradigm for reserving a space at work by automating the user experience. Its automated booking feature allows users to set up preferred locations, spaces, and desks within their profile and automatically book the best space when a physical location is selected for a workday. Integrated within Slack, users have the option to book a space seamlessly, with the ability to view who is working where and reserve desks adjacent to team members or preferred colleagues.
Flexy Spaces is designed for companies of all sizes operating in a hybrid or remote-first environment where employee location, schedule, and access awareness is integral to reserving spaces in the modern workplace. Flexy Spaces supports dedicated desks, shared desks, collaboration areas, coworking offices or access passes from companies like WeWork, Industrious, and Regus. Remote-first companies using meeting and event spaces can take advantage of Flexy Spaces to bring teams together on a monthly or quarterly basis. Team managers can easily add a space location and promote their meetings and events using Flexy's Smart Workplace Awareness features.
"Flexy Spaces offers companies an automated solution to reserve any type of space to make the most of in-person office days," said Jeff Johnson, Flexy.ai co-founder and chief executive officer. "We quickly realized that an important part of driving in-office collaboration and events required a new approach for our users to book space of any kind and then share it with their team or colleagues when updating their workday location."
Flexy Spaces use the employees' space preferences, who they follow, and usage patterns to provide helpful nudging in Slack on who is going to be in the office, where they will be working, the best times to meet, or who is attending an event. Flexy Workplace Analytics connects people, locations, spaces, meetings, events, and social gatherings data for moments that matter to help workplace leaders reconfigure their real estate to meet the needs of their employees.
"Flexy Spaces can be integrated with a company's existing desk booking systems that do not provide employees with location and schedule awareness or business and social events." said JC Duchaine, Flexy AI co-founder and CTO. "We have designed and integrated Flexy Space within our Smart Workplace Awareness platform so reservations from these older standalone systems can be visible and automatically booked by Flexy."
Additional Flexy software enhancements
Flexy.ai released versions 1.12, which will also bring a range of additional features and enhancements to upgrade the Flexy user's experience.
– English and French, with more languages coming soon
– Default schedules to easily rollout workplace objectives
– Performance optimization for a faster and smoother user experience
– Flexybot, its Personal AI Assistant, interactive messaging to improve intuitive interactions between Google Chat, Slack, and MS Teams and the Flexy Connection Center
_______
About Flexy.ai
Flexy.ai is an employee engagement and workplace software company powered by its Smart Workplace Awareness AI to optimize the connections between people, locations, spaces, meetings, events, and social gatherings for moments that matter. Designed and built for the post-pandemic workforce, Flexy helps employees working in a hybrid or remote-first workplace environment make the most out of their workday. Flexy.ai is headquartered in Dublin, CA, with its development office in Montreal, Québec, Canada.
For More Information: flexy.ai
Patti Faulkner
Flexy.ai
+1 720-838-0663
email us here
Visit us on social media:
Facebook
Twitter
LinkedIn
YouTube
Never show up to an empty office or nowhere to sit, again


Originally published at https://www.einpresswire.com/article/650658827/flexy-ai-adds-flexy-spaces-desk-reservations-to-its-platform-for-slack-users