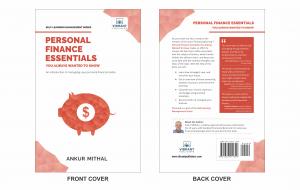 Personal Finance Essentials is a comprehensive guidebook to understanding everything about "financial planning".
Ankur Mithal, the author of Personal Finance Essentials You Always Wanted To Know
Ankur Mithal is also the author of Organizational Development Essentials You Always Wanted To Know by Vibrant Publishers
Author Ankur Mithal pours his financial knowledge in his new book "Personal Finance Essentials"
BROOMFIELD, COLORADO, UNITED STATES, November 9, 2023 /EINPresswire.com/ — Personal Finance Essentials You Always Wanted To Know (Personal Finance Essentials) is the newest addition to Vibrant Publishers' Essentials series, and as the name suggests this book is a compact guide about everything related to financial planning and money management, a subject that every adult individual has to deal with, whether one likes it or not. The book is released today.
The word finance often brings with it a certain kind of fear because many individuals have no understanding of the complex terms and concepts related to it. "This book seeks to educate common people on the fundamentals of personal finance and make them aware of their opportunities," says Ankur Mithal, author of Personal Finance Essentials. He says, "With the options and possibilities for earning and spending, buying and selling, investing, and saving having multiplied, it has become more important than ever for individuals to be financially knowledgeable so that they can make decisions related to personal finance in a manner that delivers long-term benefits."
James Meersman, Assistant Professor at Juniata College, was one of the reviewers of the book. He says, "Personal Finance Essentials is an introductory source for those wanting a gateway text for basic personal finance concepts. I often find that personal finance books either over-complicate or over-promise the benefits to the reader. However, this work does an effective job of bridging the gap between practice and theory by only emphasizing the essential components of both. By exposing the reader to a broad range of important concepts relevant to personal finance, this book is an appropriate starting point for those needing a framework to understand the importance and application of personal finance concepts within their own life."
In the first few chapters, the book explains simple concepts related to finance, right from income and expenses to reading financial statements and budget planning. The author then moves on to explain the workings of banking, investment, insurance, borrowing money, and mortgaging. It also deals with the dreaded subject of retirement planning. It makes a dry subject like finance an interesting read with fun facts, quizzes, and relevant examples.
No matter what stage of life an individual is at, this book has something for everyone. It also comes in as a handy guide for students beginning a course in finance or helping organizations train their employees on money management.
Personal Finance Essentials is part of Vibrant Publishers' Self-Learning Management series. This series is designed to address every aspect of business and help students, new managers, career switchers, and entrepreneurs learn essential management lessons.
About the Author
Ankur Mithal is a widely experienced business professional. His 15 years of experience with Standard Chartered Bank lent him extensive financial knowledge which he has poured into this book. He delivered roles in sales where he guided clients in their purchase of financial products/services, investing, and borrowing; as well as project management and operations where he led multiple cross-border multicultural teams. He is also an author, entrepreneur, and business consultant.
About the Self-Learning Management series
The Self-Learning Management Series is designed to address every aspect of business and help students, new managers, career switchers, and entrepreneurs learn essential management lessons. Each book contains fundamentals, important concepts, and standard and well-known principles as well as practical ways of application of the subject matter, in a compact format that is very easy to interpret.
About Vibrant Publishers LLC
Vibrant Publishers LLC is a Colorado-based book publishing house that started its operations in 2011 and focuses on publishing high-quality books for entrepreneurs, IT professionals, management professionals, and graduate students. Vibrant Publishers has redefined how rich content can be made available to today's fast-paced generation. This new generation's need-to-know-now attitude and a highly competitive business environment have triggered this series of books with 'just the essential information'. Vibrant Publishers is committed to publishing books that are content-rich, concise, and approachable, enabling more people to read and benefit from them.
Title: Personal Finance Essentials You Always Wanted To Know
Publisher: Vibrant Publishers
ISBN: Paperback – 9781636511849
Hardback – 9781636511863
E-Book – 9781636511856
###
Media Contact:
Sales, PR, and Marketing
Jisha Maniar
Vibrant Publishers
[email protected]
Originally published at https://www.einpresswire.com/article/667023781/vibrant-s-newest-release-is-an-essential-guide-to-financial-planning