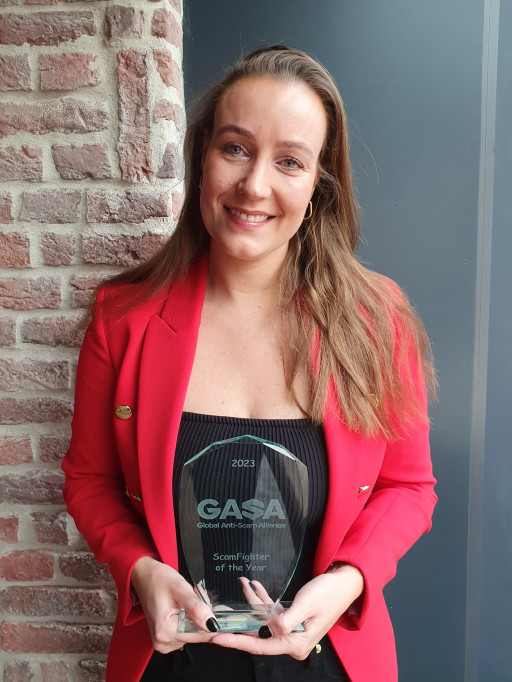 The Global Anti-Scam Alliance has awarded the Scam Fighter awards of 2023.
AMSTERDAM, February 2, 2023 (Newswire.com) - Ayleen Charlotte, scam victim of the Tinder Swindler, was honored as 'Scam Fighter Person of the Year' 2023. AA419, which has been fighting online scams since 2003, received the Scam Fighter Award for 'Best Scam Fighting Organization of the Year' 2023.
The Scam Fighter Awards is organized annually by the Global Anti-Scam Alliance (GASA) together with ScamAdviser, to bring more attention to the importance of fighting online fraud worldwide. According to GASA, last year, more than $55 billion was lost by nearly 300 million consumers worldwide in online scams. As only an estimated 7% of victims report online scams to law enforcement, these numbers are only the tip of the iceberg.
Ayleen, Scamming the Scammer
The independent Jury, consisting of Donna Gregory (Unit Chief of the FBI Internet Crime Complaint Center), Mitchel Chang (Trend Micro), and Jayde Richmond (Executive Director, Scamwatch, Australian Competition and Consumer Commission), selected Ayleen based on several dozens of nominations from the law enforcement and scam fighting community as 'Scam Fighter Person of the Year' 2023.
Ayleen was a romance scam victim of Shimon Hayut, who scammed millions of dollars out of women he met through dating apps. Donna Gregory elaborates, "What makes Ayleen unique is that she not only came forward and reported the crime but also participated in the Netflix documentary Tinder Swindler to gain more attention to this horrendous kind of crime. She is a role model for other scam victims. Of course, the fact that she as a victim also scammed the scammer and was able to recover some of the money she lost utters respect, but this is something I would not recommend other scam victims to do."
AA419, Fighting Scams for 20 Years
Artists Against 419 started listing fake banks in 2003 in a public database. Over the years, the database expanded to include other forms fraud. The core AA419 team has always been small but with a large fan base. The AA419 membership also includes members from other anti-abuse groups, working with AA419 to expose advance fee fraudsters in a central database.
The database allows scam victims to check a website. This list now contains ~157,000 entries will full data and is one of the world's largest manually collected databases of fraudulent websites, making AA419 recognized for its expertise to identify scams by several law enforcement agencies across the globe.
Jury member Jayde Richmond commented, "AA419 is a research community that provides a valuable service to help tackle online fraud and scams. Its international group of members emphasizes that online fraud is best combated by cross-border cooperation." Mitchel Chang added, "Trend Micro recognized AA419 as an excellent source for manually vetted scams. Their work is one of the many pillars many security companies rely on to keep consumers worldwide safe."
Contact Information:
Jorij Abraham
General Manager
[email protected]
Original Source:
Ayleen Charlotte (Tinder Swindler Victim) and AA419 Honored as Scam Fighters of the Year 2023