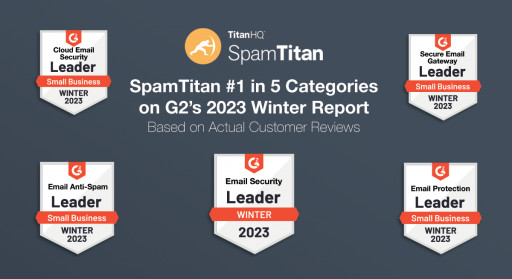 TitanHQs email security solution, SpamTitan, named #1 in the most recent G2 Grid® report for multiple categories, including 'Most Implementable' and 'Highest User Adoption'.
GALWAY, IRELAND & SHELTON, Conn., March 15, 2023 (Newswire.com) - TitanHQ, the leader in business email security, today announced it has been recognized as a leader in five categories in the G2 Crowd Grid® Winter 2023 Report as well as earning a top-five position in twelve other categories - an outstanding performance.
Exciting news out of G2 this month as SpamTitan email security has been named as leader in G2's Report for Winter 2023 in the following categories: Cloud Email Security, Small Business Email Security, Email Anti-Spam SMB, and Email Security. This recognition comes on the heels of the release of the Winter 2023 G2 Grid Reports, where SpamTitan email security was also announced in a top table position for 12 other categories.
G2 Crowd's user awards are a definitive ranking of the best software companies and products worldwide. G2 is a highly trusted source for technology reviews; it combines verified customer reviews, social media opinions, and other online data sources to score software and services for their quarterly Grid reports. The awards are based on authentic peer reviews and show the user that the site is secure and trustworthy. Organizations ranked in the Leader quadrant are highly rated by users and have a significant market presence.
TitanHQs cybersecurity platform is consistently given very high satisfaction ratings by users. As well as the G2 awards, SpamTitan has over 500 Five-Star customer reviews across Capterra/Gartner, GetApp, and Software Advice. It is also the category leader for email security on Expert Insights and PeerSpot - highly respected security industry review sites. "The overwhelmingly positive feedback from SpamTitan users on independent review sites is a return for the massive investment we made into our products and threat intel," said Ronan Kavanagh, CEO, TitanHQ.
Phishing attacks and malware cause major damage to businesses, resulting in significant financial losses and harm to reputation. TitanHQ launched SpamTitan Plus last year, which specifically focuses on blocking real-time phishing attacks using leading-edge AI and machine learning. The threat intel powering this solution is 1.5x more powerful than the leading industry solutions. The new product has been a huge success with TitanHQ customers and is the most popular solution in the business. Whether you're an IT professional in a business or an MSP offering security services, TitanHQ simplifies implementing email and web security and adds highly effective layers of protection against malware, ransomware, and phishing attacks.
SpamTitan competes directly against industry leaders such as Proofpoint, Mimecast, and Barracuda and is seen as an effective, easy-to-use, and more affordable option with superb first-line support. For more information on the TitanHQ platform and how it protects users and customers from malware, ransomware, phishing, viruses, botnets, and other cyber threats, visit www.titanhq.com
Thank you to G2 Crowd and to all G2 users who continue to give the TitanHQ suite of solutions these excellent ratings!
About TitanHQ
TitanHQ offers a best-in-class SaaS Cybersecurity Platform delivering a layered security solution to prevent user vulnerability. Our MSP-centric platform enables our partners to generate recurring revenue through the sale of our solutions to SMBs and to scale and effectively manage their own businesses.
-END-
Contact Information:
Geraldine Hunt
Senior Marketing Manager
[email protected]
091 545555
Related Images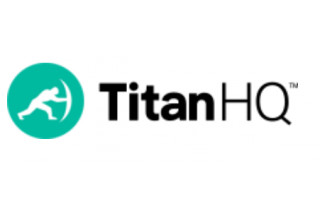 TitanHQ Logo
TitanHQ offers a best-in-class SaaS Cybersecurity Platform delivering a layered security solution to prevent user vulnerability.
Original Source:
TitanHQ is Recognized by G2 as the Category Leader in Cloud Email Security, Small Business Email Security, Email Anti-Spam SMB, and Email Security