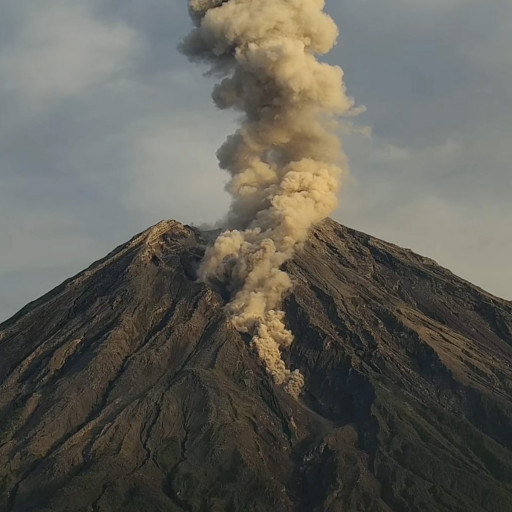 Livestream provides a vital crowdsourced tool for volcano monitoring
VANCOUVER, British Columbia, June 28, 2023 (Newswire.com) - To further its mission to make it possible for people to experience the beauty and excitement of the natural world from afar, without the environmental impact from travel, AfarTV has launched a 24/7 4K live stream of the erupting Semeru Volcano on the island of Java in Indonesia. This project is the world's first 4K live stream of an erupting volcano. It offers people, for the first time, a chance to view an erupting volcano with unprecedented detail, including the ability to see volcanic activity happening directly inside the crater, thanks to the positioning and 40X magnification of its camera.
"I'm excited to announce that this is the first of many 4K volcano live streams from around the world. Our goal is to place a 4K webcam in front of every erupting volcano on earth." - Ryan Logtenberg, AfarTV
Not only does this camera provide a first-of-its-kind 4K window to one of the most beautiful volcanoes on earth, but the camera will also be providing a vital service to volcanologists and government officials who need to monitor the volcano's activity to ensure the 950,000 people living within a 35km radius can be alerted promptly should the volcano display signs of a significant eruption. The camera is powered by solar and batteries to ensure the camera remains running during power outages.
AfarTV is also recognized for launching the first 4K live stream in the state of Hawaii. This live stream showcases the Hawaii Humpback Whale Marine Sanctuary which gives virtual tourists an up-close view of humpback whale activity during the winter months.
It is unsustainable with today's carbon-intensive modes of travel for everyone to be able to experience these beautiful locations in person. That's why AfarTV is focusing on bringing the world to them using the latest technology available so that greenhouse gas emissions can be avoided.
The Semeru Volcano live stream is now live and can be found on AfarTV's YouTube channel here: https://www.youtube.com/@afartv
Contact Information:
Ryan Logtenberg
Creator
[email protected]
604-883-2227
Original Source:
AfarTV Launches World's First 4K Live Stream of an Erupting Volcano