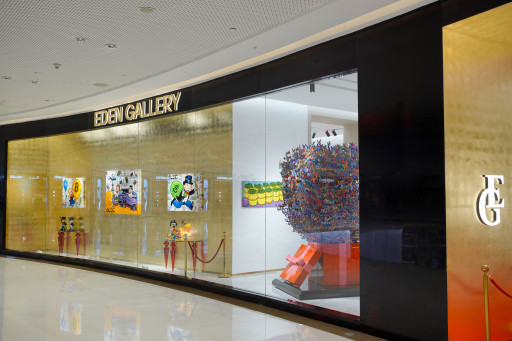 Experience Contemporary Art Like Never Before
NEW YORK, February 1, 2023 (Newswire.com) - Eden Gallery Dubai, a luxurious destination for contemporary art connoisseurs, is proud to celebrate its 1st anniversary. Nestled in the heart of Dubai, next to the iconic Burj Khalifa, the gallery boasts a lavish 11,000-square-ft space, with floor-to-ceiling artwork displayed in a modern design that allows the art to take center stage while providing visitors with a beautiful and alluring atmosphere. As one of the most exquisite galleries in the UAE, it's a must-visit for art enthusiasts visiting Dubai.
The Gallery That Redefined Art & Luxury
For over 25 years, Eden Gallery has been showcasing the works of renowned artists in premier locations worldwide. And now, Eden Gallery has brought Its expertise to the Middle East by opening Eden Gallery Dubai. This milestone anniversary marks a year of curating the most extraordinary and diverse exhibitions, featuring the works of some of our time's most exciting and innovative artists. From the bold and striking street art of Alec Monopoly to the vibrant and dynamic paintings of Eduardo Kobra, Eden Gallery Dubai offers a visual feast for art enthusiasts of all tastes. The gallery is also elated to feature the exceptional works of additional talented artists, including Gal Yosef, Angelo Accardi, David Kracov, and many more.
In addition to these exhibitions, Eden Gallery Dubai also hosts various exclusive events throughout the year, providing visitors with a unique opportunity to engage with the art and artists in a more personal and intimate setting. As they look forward to another year of bringing the best in contemporary art to Dubai, they invite everyone to join them in celebrating the 1st birthday of Eden Gallery Dubai.
Eden Gallery Dubai 1st Anniversary: Exclusive Events & Art
Eden Gallery invites guests to mark their calendars and join in a month-long celebration of FebruArt, a series of unique art events as part of their anniversary celebration. Long-time collectors and art enthusiasts are invited to immerse themselves in the vibrant and colorful world of contemporary art at Eden Gallery Dubai. The gallery is located in The Dubai Mall on Fashion Avenue and is open Monday to Sunday from 10 am to 10 pm. This is an opportunity for visitors to experience the epitome of luxury and art at Eden Gallery Dubai.
Contact Information:
Nitsan Eden Gallery
PR manager
[email protected]
+1 (908) 906-7623
Original Source:
Art & Luxury Come Together at Eden Gallery Dubai's 1st Anniversary