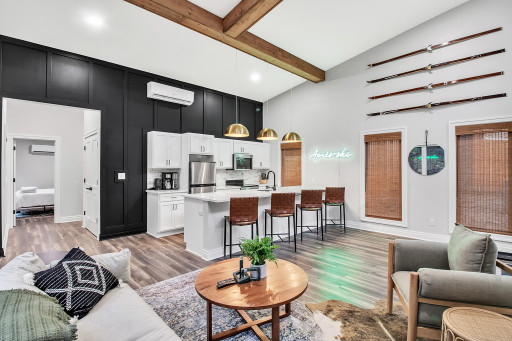 An 11-Cabin Community Perfect for Four-Season Rentals
BUFFALO, N.Y., January 30, 2023 (Newswire.com) - Basecamp Tiny Cabins announces their grand opening in the Town of Ellicottville. The first tiny home village in Western New York, Basecamp offers a unique lodging experience, providing 11 tiny cabins for an intimate stay for couples to larger groups.
Packaged within the modern but rustic exteriors of the cabins are four layout options ranging from 400 - 800 square feet with inviting features such as oversized windows and 10-14-foot-tall ceilings: (1) Studio Cabins offer the most authentic tiny-living experience with a cozy lofted sleeping area above the main living area. (2) Bungalow Cabins offer similar comforts as the studio cabins but with more living space and a full bedroom instead of the loft. (3) Loft Cabins offer the most diverse living experience in Basecamp, featuring a full bedroom and lofted living/sleeping space. (4) Chalet, the most premium design and most stunning option in the village, features two bedrooms and a sleeper sofa to accommodate up to six guests. This open floor plan provides a hangout area for up to 12 people. All tiny cabins offer the amenities of a regular home, such as queen beds, streaming-ready televisions, kitchenettes, full bathrooms, and a washer and dryer in each unit. Basecamp also boasts views of Plum Creek, which runs along the wooded slope in the back of the property.
"Ellicottville has become a four-season destination with attractions that change by the season," said Bob Carbone, co-founder. "The unique thing about design for tiny living is it has the flexibility to accommodate everything from season-long ski renters to people coming in town for a wedding or other special event. We wanted to do that with a design and interior finishes that distinguishes itself from anything else in the area."
Conveniently located at the base of Holimont Ski Club and minutes from the Village of Ellicottville and Holiday Valley Resort, Basecamp Tiny Cabins is dedicated to becoming the premier destination for long-term renters during ski season as well as short-term renters attending weddings, bachelor/bachelorette celebrations, golf outings, corporate retreats, and other special events in the summer and fall months.
Rental options vary from single cabin rentals to multiple cabin rentals to complete village buyouts. For reservations or booking options, please visit www.basecamp.ski. For more information regarding digital assets, please click here.
About Basecamp Tiny Cabins
Located at the base of the Holimont Ski Club in Ellicottville, New York, rests a village of 11 tiny cabins named Basecamp. Open for year-round short-term rentals, Basecamp Tiny Cabins offers cabins ranging from 400 to 800 square feet, which can accommodate 4-8 people. Cultivating a home environment, each cabin is equipped with a full kitchen, full bathroom, and washer and dryer. As 'Tiny Home' living continues to gain momentum as an increasingly popular lifestyle, come experience it for yourself at Basecamp!
Related Files
Basecamp_final.docx
Original Source:
Basecamp Tiny Cabins Opens in Ellicottville, New York