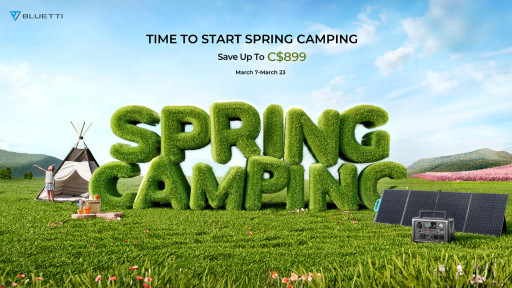 VANCOUVER, British Columbia, March 9, 2023 (Newswire.com) - Starting March 7, BLUETTI, the leading brand in clean energy storage industry, is offering a bundle of savings on power stations, solar panels and kits for people to explore nature.
Home Backup Before Hitting The Road
Spring is the time to get out and enjoy the great outdoors. To stop worrying about potential power outages during spring camping, a backup power system at home, like the BLUETTI's AC300&B300 and AC500&B300S is a must-have. These combos are powerful and capacity-expanding. The AC300 comes with a 3000W inverter and supports four B300 LFP batteries for a maximum capacity of 12288Wh. While the AC500 is even more robust in delivering 5000W power and has a massive 18.4kWh storage with six B300S modules.
With their large capacity and efficient UPS function, AC300 and AC500 power systems can give travelers peace of mind when away for several days. Once power outages occur, they can detect and switch over in 20ms to keep the house running as usual. So there's no need to rush home to check whether the refrigerator, fish tank or security cameras have power.
Mobile Solar Power for Longer Playtime
One of BLUETTI's goals is to provide enough power people need in the wild. The EB3A and EB70S portable solar generators can certainly live up to expectations. They are both handy and powerful enough: EB3A can supply 600W from its 268Wh LFP battery to 9 different devices, while EB70S for 800W, 716Wh. If the above two starter solar generators don't fulfill the increasing needs, meet the AC200Max and AC200P. They perfectly balance capacity and mobility. Besides their integrated 2000Wh battery, they can connect with B230 or B300 expansion battery for a larger capacity. The 2000W power output is also sufficient for the charging of most common devices.
Even if the solar generators are depleted, they can be quickly replenished by fast solar charging via BLUETTI portable solar panels. All BLUETTI panels, including PV120, PV200, and PV350, use monocrystalline cells with up to 23.4% efficiency. Covered with ETFE material and equipped with an IP65 junction box, they are designed to withstand all scratches and splashes. Especially, the PV420 is the latest innovation that can produce 420W power from sunlight, speeding up charging greatly. It hit the shelf on BLUETTI's official website on February 28, 2023.
About BLUETTI
With over 10 years of industry experience, BLUETTI has tried to stay true to a sustainable future through green energy storage solutions for both indoor and outdoor use while delivering an exceptional eco-friendly experience for everyone and the world. BLUETTI is making its presence in 70+ countries and is trusted by millions of customers across the globe. For more information, please visit BLUETTI online at https://www.bluettipower.ca/.
Facebook: https://www.facebook.com/bluetti.ca/
Instagram: https://www.instagram.com/bluetti_canada/
Twitter: https://twitter.com/bluetti_inc
Youtube: https://www.youtube.com/@BLUETTIOfficial
Contact Information:
Amanda Yan
Integrated Marketing for BLUETTI
[email protected]
+8615013559696
Related Files
PR-Spring Sale -CA-Newswire.docx
Original Source:
BLUETTI's Spring Sale Helps Travelers Have the Best Spring Outdoor Adventure