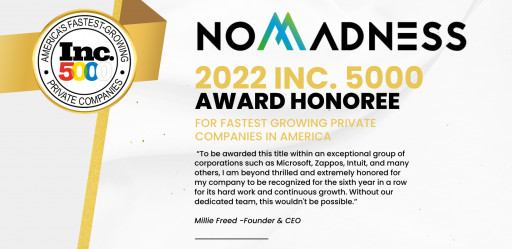 Nomadness Rentals
Nomadness Rentals awarded the 2022 Inc. 5000 award for the fastest-growing private companies in America.
STEAMBOAT SPRINGS, Colo. - August 17, 2022 - (
Newswire.com
)
Nomadness Rentals is proud to announce that it has received the prestigious Inc. 5000 award for the fastest-growing companies in America. Nomadness holds the title as the "best-in-class" vacation property management company out of six million businesses in the U.S. for the sixth consecutive year. The Inc. 5000 award and list is the most distinguished and honored ranking of the nation's businesses. This list represents the most successful companies within the American economy's most dynamic segment of independent organizations.
In 2008, Nomadness was founded in the Eastern Sierra region of California and quickly gained praises from the Mammoth Lakes community. Since then, the company has grown in great lengths in all aspects of the business. With diverse marketing techniques and adaptive pricing strategies developed over the years, Nomadness is able to easily book vacation rentals throughout the year while staying consistently competitive in the hospitality industry. 
The founder and CEO of Nomadness Rentals Millie Freed states, "To us, we want to make booking easy for our renters and property owners, providing both parties with an excellent experience whether they're traveling or renting out their properties. One example of how we did this is by creating our proprietary software platform NomadRez." The platform enables property owners to accurately track all rental reservation activity through one centralized website. Collectively, Nomadness and NomadRez deliver 35%-40% higher rental revenue to their homeowners. 
Nomadness is now gaining headway in its newest destination, Steamboat Springs, Colorado, and intends to continue to expand the business to multiple locations across the United States. Throughout the years, Nomadness has perfected its efforts to ensure consumers receive top-tier services for all their property management and travel wants and needs. To this day, Nomadness is known throughout the industry as one of the top-rated businesses with the best reviews within the property management and vacation rental world. Each year that follows, Nomadness will continue to bring more innovation, quality, and integrity to its business. "We want Nomadness to be associated with doing things the right way, and eliminating all the madness that goes with planning a vacation," Millie says.
It is no surprise that Nomadness Rentals has made the Inc. 5000 honorary list for the sixth year in a row. "To be awarded this title within an exceptional group of corporations such as Microsoft, Zappos, Intuit, and many others, I am beyond thrilled and extremely honored for my company to be recognized for the sixth year in a row for its hard work and continuous growth. Without our dedicated team, this wouldn't be possible," Millie states. 
Even though Nomadness has grown immensely over the years, its core values of accountability have stayed the same, and you can trust that they always will. If you're interested in booking your next vacation with an Inc. 5000 honoree, explore Nomadness's vacation rentals in Steamboat Springs, Colorado, and Mammoth Lakes, California.
Press Release Service by
Newswire.com
Original Source:
Nomadness Rentals Awarded the 2022 Inc. 5000 Award