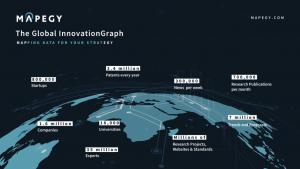 Berlin's MAPEGY celebrates 10 years of success with their Future Intelligence SaaS platform, serving top clients and shaping innovation worldwide.
Working with MAPEGY means helping to drive growth for business and society alike and create a better tomorrow with the information we have on hand today."
— Dr. Peter Walde
BERLIN, GERMANY, September 15, 2023/EINPresswire.com/ — MAPEGY, a Berlin-based Data-Intelligence company, proudly celebrates a remarkable milestone as it commemorates its ten-year anniversary. Through its Future Intelligence SaaS platform SCOUT, MAPEGY aids real-time strategic decision-making for over 50 prominent clients, including Siemens, Bosch, MCG, BMW, and Accenture. This press release marks MAPEGY's significant role in shaping innovative solutions for the challenges of modern global markets.
Pioneering Beginnings: Igniting Innovation from the Ground Up

Dr. Peter Walde, MAPEGY's founder with a Ph.D. in Natural Language Processing from the University of Leipzig, has dedicated his career to merging Data Science and Strategic Foresight. During his tenure at Volkswagen AG (Group Innovation) from 2003 to 2011, he pioneered data-driven foresight, exploring how businesses can leverage emerging trends for a competitive edge. In 2012, building on his corporate experience, he established MAPEGY initially as a consultancy and was later joined by Dr. Matthias Plaue, a versatile researcher and data scientist with a background in mathematical physics. In 2019, a team of data and AI experts redirected focus toward a SaaS platform for service automation, amplifying client value. Since its inception, MAPEGY has been defined not just by technological prowess, but also by core values of data trust, transparency, unity, and unwavering commitment to a better future.
What They Provide and Their Benefits

Amidst data deluge and evolving global markets, decision-makers grapple with unprecedented challenges as businesses face escalating competition, driving the need for innovative strategies and expertise in innovation and future planning.
Aligned with the vision of MAPEGY Future Intelligence to make businesses future-proof, the team envisions a future where businesses harness key insights for enduring success. This mission finds its embodiment in SCOUT, a cutting-edge platform that redefines business approaches to innovation. By rapidly aggregating verified global data, SCOUT empowers leaders with real-time insights spanning trends, startups, competitors, technologies, and more, while also functioning as an innovation accelerator. SCOUT facilitates prompt AI-driven data analysis, trend and weak signal detection, blind spot analysis, intelligent evaluation, and seamless team collaboration.
At the heart of their offerings lies the revolutionary Innovation Graph, fueled by AI and comprehensive publicly available global data. This disruptive tool transforms research and development data into strategic intelligence, allowing decision-makers to foresee opportunities and threats. A pivotal aspect of their strategy involves augmenting human intelligence through their user-friendly platform to construct the most sophisticated and comprehensive Future Graph. With their AI-guided foresight, MAPEGY empowers decision-makers to perceive tomorrow's opportunities and threats today, transitioning from research and development data towards strategic intelligence, thereby cementing their position as a cornerstone in the pursuit of future-proof business strategies.
Global Expansion and 50 Happy Customers

Embarking on a journey of global expansion, MAPEGY proudly reaches a significant milestone—serving a growing roster of 50+ satisfied enterprise customers hailing from diverse sectors across the globe, including industry leaders like Liebherr, MCG, Siemens, and Rolls Royce. An additional endeavor sees MAPEGY lending support to the government-funded research initiative, KI4BoardNet, where they provide AI-powered insights to the German automotive industry.
With profound gratitude, MAPEGY acknowledges its clients for their unwavering trust and steadfast partnership, propelling the company to unprecedented heights of innovation. The journey ahead promises to be a shared one, marked by continued inspiration and mutual growth.
Knowledge Sharing and Resources

MAPEGY remains steadfast in its commitment to fostering knowledge-sharing within the innovation community. Firstly, they organize monthly webinars, delving into AI & Data-powered Technology, Competitive Landscaping, and holistic insights into Players, Emerging Technologies, and Trends. To learn more, visit their Events Page.
In line with this commitment, MAPEGY provides engaging updates on LinkedIn with weekly publications and research. Their Blog Section and Medium space serve as hubs for expert insights. They offer downloadable reports and whitepapers, including the esteemed "A Guide To Data-Driven Innovation and Technology Intelligence" authored by Dr. Matthias Plaue, their Chief Data Scientist, underscoring their profound industry expertise.
Conclusion

Standing at the culmination of a remarkable ten-year journey, MAPEGY finds itself in awe of the multitude of milestones achieved and transformative accomplishments attained. From modest beginnings to becoming a beacon of innovation, the path has been illuminated by growth, learning, and pioneering feats. Heartfelt appreciation resonates for the devoted employees, visionary clients, steadfast partners, and valued stakeholders, whose unwavering support has been instrumental in propelling MAPEGY towards excellence.
Dr. Peter Walde
MAPEGY GmbH
+49 30 43022120
[email protected]
Visit us on social media:
Facebook
Twitter
LinkedIn
YouTube
Other
Check out how MAPEGY supports MCG in its mission to be carbon positive by 2030


Originally published at https://www.einpresswire.com/article/655680477/a-decade-of-innovation-and-growth-celebrating-10-years-of-mapegy