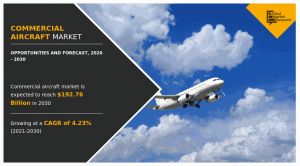 PORTLAND, OREGAON, UNITED STATES, September 15, 2023/EINPresswire.com/ — Allied Market Research recently published a report, titled, "Commercial Aircraft Market by Size (Narrow Body, Wide Body, Regional & Business Jet, and Freighter), by Application (Passenger, Cargo): Global Opportunity Analysis and Industry Forecast, 2020-2030." As per the report, the global commercial aircraft industry generated $128.21 billion in 2020, and is projected to reach $192.76 billion by 2030, growing at a CAGR of 4.2% from 2021 to 2030.
Asia-Pacific dominates the market, in terms of revenue, followed by North America, Europe, and LAMEA. U.S. dominated the global commercial aircraft market share in in North America, owing to increase in demand for air travel in the U.S. and rapid adoption of innovative technologies in making reliable and efficient commercial aircraft. Asia-Pacific is expected to grow at a significant rate during the forecast period, owing to rise air passenger traffic across several Asian nations, for instance, China, India, Japan, and South Korea.
𝐑𝐞𝐪𝐮𝐞𝐬𝐭 𝐒𝐚𝐦𝐩𝐥𝐞 𝐏𝐚𝐠𝐞𝐬 : https://www.alliedmarketresearch.com/request-sample/1706
Depending on size, Narrow body segment accounted for the highest revenue in 2020, owing to high demand for narrow body commercial aircraft that are purchased by hundreds of airlines operating across the globe.
As per the application, passenger segment was the highest revenue contributor in 2020, owing to high demand for commercial aircraft for air travel by passengers globally.
𝐂𝐎𝐕𝐈𝐃-𝟏𝟗 𝐈𝐦𝐩𝐚𝐜𝐭 𝐀𝐧𝐚𝐥𝐲𝐬𝐢𝐬 :
The COVID-19 impact on the commercial aircraft market trends is unpredictable and is expected to remain in force for a few years.
The COVID-19 outbreak forced governments across the globe to implement stringent lockdown and ban import-export activities for most of 2020 & few months in 2021. This led to sudden fall in demand for air travel and thousands of planes were grounded across the globe.
Moreover, nationwide lockdown forced commercial aircraft manufacturing facilities to partially or completely shut their operations.
Adverse impacts of the COVID-19 pandemic have resulted in delayed activities and initiatives regarding development of commercial aircraft components across the globe.
𝐏𝐫𝐨𝐜𝐮𝐫𝐞 𝐂𝐨𝐦𝐩𝐥𝐞𝐭𝐞 𝐑𝐞𝐬𝐞𝐚𝐫𝐜𝐡 𝐑𝐞𝐩𝐨𝐫𝐭 𝐍𝐨𝐰 : https://www.alliedmarketresearch.com/commercial-aircraft-market/purchase-options
𝐊𝐄𝐘 𝐅𝐈𝐍𝐃𝐈𝐍𝐆𝐒 𝐎𝐅 𝐓𝐇𝐄 𝐒𝐓𝐔𝐃𝐘 :
By aircraft size, the freighter segment is expected to register a significant growth during the forecast period.
Depending on application, the cargo segment is anticipated to exhibit significant growth in future.
Region wise, Asia-Pacific is anticipated to register the highest CAGR during the forecast period.
𝐋𝐞𝐚𝐝𝐢𝐧𝐠 𝐌𝐚𝐫𝐤𝐞𝐭 𝐏𝐥𝐚𝐲𝐞𝐫𝐬 :
Lockheed Martin Corporation
Textron Inc.
Raytheon Technologies Corporation
Airbus Group
The Boeing Company
Dassault Aviation
Commercial Aircraft Corporation of China, Ltd
General Dynamics Corporation
Embraer S.A.
General Electric
𝐈𝐧𝐪𝐮𝐢𝐫𝐞 𝐁𝐞𝐟𝐨𝐫𝐞 𝐁𝐮𝐲𝐢𝐧𝐠 : https://www.alliedmarketresearch.com/purchase-enquiry/1706
𝐑𝐞𝐚𝐝 𝐌𝐨𝐫𝐞 𝐑𝐞𝐩𝐨𝐫𝐭𝐬 :
Aircraft Window Frame Market : https://www.globenewswire.com/en/news-release/2022/10/11/2531418/0/en/Aircraft-Window-Frame-Market-to-Garner-250-5-Million-by-2031-Allied-Market-Research.html
Zero-Emission Aircraft Market : https://www.prnewswire.com/news-releases/zero-emission-aircraft-market-to-reach-191-97-bn-globally-by-2040-at-20-7-cagr-allied-market-research-301331380.html
David Correa
Allied Analytics LLP
+1 800-792-5285
email us here
Visit us on social media:
Facebook
Twitter
LinkedIn


Originally published at https://www.einpresswire.com/article/655931038/commercial-aircraft-market-2021-to-2030-global-analysis-size-growth-demand-trends-industry-report-amr