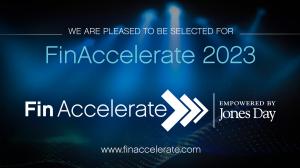 PowerPatent participates in Jones Day FinAccelerate program to work with leading investors, corporations, financial institutions, and potential JV partners.
PowerPatent's AI-driven solutions help inventors with faster turnaround times without compromising on the quality of patent drafts. We look forward great fintech inspirations through FinAccelerate."
— Mary Kimani, Director of Communications
SANTA CLARA, CA, UNITED STATES, September 15, 2023/EINPresswire.com/ — PowerPatent, a leading innovator in the field of intellectual property solutions, is delighted to announce its selection to participate in the highly esteemed Jones Day FinAccelerate program. This intensive accelerator program, empowered by Jones Day, one of the world's premier and largest law firms, is set to propel PowerPatent to new heights in the fintech industry.
The Jones Day FinAccelerate program is designed to provide fintech companies with a comprehensive and immersive experience, covering the fundamental areas of law that are crucial for innovative fintech businesses. PowerPatent's acceptance into this prestigious program represents a milestone in the company's journey, underscoring its commitment to continuous innovation and excellence in fintech IP applications.
By participating in FinAccelerate, the company gains access to a network of leading investors, corporations, financial institutions, and potential joint venture partners. This access is invaluable, as it provides PowerPatent with the resources and expertise needed to accelerate its business growth and further enhance its intellectual property solutions.
"PowerPatent is honored to be selected for the Jones Day FinAccelerate program. This opportunity reinforces our commitment to excellence and innovation in the fintech and intellectual property sectors," said Mary Kimani, Director of Communications at PowerPatent. "We are excited to leverage the resources and expertise offered by Jones Day to further advance our mission of simplifying and transforming the intellectual property landscape."
Jones Day is a global legal institution with more than 2,400 lawyers in 40 offices around the world. The Jones Day FinAccelerate program is renowned for its rigorous curriculum, which covers a wide range of legal aspects relevant to fintech companies. The accelerator program will empower PowerPatent to navigate complex legal challenges and regulatory frameworks in applying blockchain to IP generation with confidence, ultimately enhancing the quality of service it provides to its clients.
PowerPatent looks forward to the journey ahead as it collaborates with Jones Day professionals at https://finaccelerate.com/Legal.aspx and other like-minded fintech innovators in the FinAccelerate program. The company anticipates that this partnership will not only accelerate its business growth but also enable it to continue developing cutting-edge intellectual property solutions that empower inventors and businesses around the world.
For more information about PowerPatent and its participation in the Jones Day FinAccelerate program, please visit www.PowerPatent.com.
About PowerPatent:
PowerPatent is a leading technology company specializing in AI-driven intellectual property solutions. With a strong commitment to innovation and excellence, PowerPatent has developed a range of tools and services that revolutionize the patent drafting and management processes. Its mission is to empower inventors and enterprises to protect their intellectual property efficiently and effectively.
Mary Kimani
PowerPatent
+1 234-215-7800
email us here
Visit us on social media:
Facebook
Twitter
LinkedIn
How PowerPatent IP Software works


Originally published at https://www.einpresswire.com/article/655529971/powerpatent-selected-for-the-prestigious-jones-day-finaccelerate-program