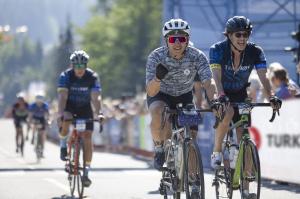 Flying to over 120 countries, Turkish Airlines connects North America's largest Gran Fondo with the world
It is a pleasure for us that Turkish Airlines is mentioned together as an 'Official Airline Partner' with such an important sporting organization in North America.""
— Ahmet Olmuştur, Chief Marketing Officer (CMO)
VANCOUVER, BC, CANADA, August 26, 2023/EINPresswire.com/ — Contact: Oli Cartmell
RBC GranFondo Whistler
604-568-8648 x 225
[email protected]
rbcgranfondo.com/whistler
Turkish Airlines announced as Official Airline Partner of RBC GranFondo Whistler

Flying to over 120 countries, Turkish Airlines connects North America's largest Gran Fondo with the world
Turkish Airlines, national flag carrier of Türkiye and 8 times winner of the Skytrax Best European Airline award, including in 2023, today announced a new partnership with RBC GranFondo Whistler, the largest Gran Fondo cycling event in North America, becoming Official Airline Partner.
This partnership continues RBC GranFondo Whistler's strategy of expanding and attracting riders from international territories and strengthens Turkish Airlines's connection to the Pacific West Coast.
Turkish Airlines will be in attendance at the VeloSpoke Expo on September 8, and will also create a hosting area the re-registration tent at the Celebration Plaza finish line festival, where a multi-thousand dollar grand draw prize will be on offer for those who sign up for the 2024 edition of RBC GranFondo Whistler. Further details will be released closer to the event, held this year on Sat September 9, 2023.
Commenting on the partnership Turkish Airlines Chief Marketing Officer (CMO), Ahmet Olmuştur said; "It is a pleasure for us that Turkish Airlines, which has become a permanent supporter of sports with its important investment projects on global scale, is mentioned together as an 'Official Airline Partner' with such an important sporting organization in North America."
"We are thrilled to welcome Turkish Airlines to the event family", said Dom Gilbert, Partnerships Director for RBC GranFondo Whistler. "With an international marketing roadmap that included the successful bid for the UCI Gran Fondo World Championships in 2020, this partnerships allows for even greater international access to one of the world's most iconic Gran Fondo events here on the West Coast of beautiful British Columbia".
Turkish Airlines and RBC GranFondo Whistler also share a commitment to sustainability and environment responsibility. A leading player in the aviation industry with its sustainability-focused initiatives, in April 2023 Turkish Airlines was awarded the title of "Most Sustainable Flag Carrier Airline" by World Finance, a respected organization in the international finance world. This is the second consecutive year that the flag carrier brand has received this award.
RBC GranFondo Whistler have announced the Project Zero Waste initiative, designed to make the event certified as Zero Waste. This project includes waste management strategies, participant education, consultation on mitigation, working with local environmental organisations and more to achieve this aim, which is currently 1.8% away from its target.
Amid the climate crisis posing significant challenges to the aviation sector, Turkish Airlines stands out for its voluntary carbon offsetting platform CO2mission, the use of Sustainable Aviation Fuel (SAF), implementation of in-flight sustainable products, waste management practices, and the sustainable travel experience provided to its passengers.
ABOUT TURKISH AIRLINES
Established in 1933 with a fleet of five aircraft, Star Alliance member Turkish Airlines has a fleet of 427 (passenger and cargo) aircraft flying to 344 worldwide destinations as 291 international and 53 domestics in 129 countries. More information about Turkish Airlines can be found on its official website www.turkishairlines.com or its social media accounts on Facebook, Twitter, YouTube, LinkedIn, and Instagram.
ABOUT RBC GRANFONDO WHISTLER
Established following the Vancouver Winter Olympics in 2010, RBC GranFondo Whistler is an award-winning point-to-point cycling event between Vancouver and Whistler, British Columbia, Canada that takes annually place on the 2nd weekend of September. On average, 5000 cyclists ride each year across different distance categories, both competitive and non-competitive. Through the event, over $300,000 has been donated in support of youth cycling charitable causes since inception (rbcgranfondo.com/whistler).
Registration for the 2023 edition is open now. To learn more, visit rbcgranfondo.com/whistler. To sign up, participants should visit raceroster.com/events/2023/63563/rbc-granfondo-whistler?aff=MKYKC – ride date is Sat Sept 9, 2023.
-30-
RBC GranFondo Whistler contacts:
For more information, please contact Media lead Oli Cartmell via [email protected]
For partnership opportunities, please contact Partnerships lead Dom Gilbert via [email protected] and see the partnerships deck now.
Dom Gilbert
RBC GranFondo
+1 604-568-8648 ext. 205
email us here
Visit us on social media:
Facebook
Twitter
Instagram
YouTube


Originally published at https://www.einpresswire.com/article/652051540/turkish-airlines-announced-as-official-airline-partner-of-rbc-granfondo-whistler