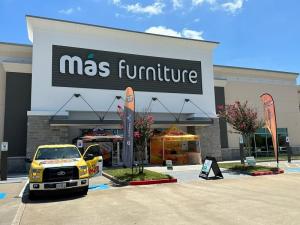 Exclusive Furniture has Created Brand Catering to Specific Lifestyle and Cultural Norms for Hispanics To Create House = Home Environment in Houston
At MAS, we will be giving the full furniture experience and offer more resources for the community including health, welfare, entertainment, and the lowest prices possible!"
— VP of Marketing, Carolina Chavez
HOUSTON, TX, UNITED STATES, August 3, 2023/EINPresswire.com/ — After successfully serving Houston's furniture and home needs through Exclusive Furniture, President & CEO, Sam Zavary alongside, VP of Sales – Fawad Zavary, Director of Operations, Fauzia Kabani, Marketing Team, and VP of Marketing, Carolina Chavez, have created a brand of Exclusive Furniture dedicated specifically to the Hispanic Market. This Saturday, August 5th, 2023, MAS Furniture will be officially opening its doors and welcoming guests to experience the culture of MAS Furniture. Beginning at 10:00 AM, there will be games, prizes, food, and the first 100 persons to enter will receive a $100 gift card. Attendees will have the opportunity to receive amazing prizes and MAS will also be raffling off furniture and bicycles all day long.
"The vision behind this brand is to create a community where Hispanics can connect with their Hispanic heritage and shop for furniture at the same time. VP of Marketing, Carolina Chavez states, "We at 'MAS' are always offering MORE to help the community– MAS furniture, MAS Salud, MAS Sabor, MAS Diversion," Says Chavez. "At MAS, (as we open and continue developing the brand) we will be giving the full experience of the Hispanic lifestyle to offer more resources for the community including health, welfare, entertainment, and a full, well-rounded picture of what means something to Hispanics, and of course MAS calidad y precios bajos en muebles para el hogar!
Different ways MAS will serve the community include:
MAS SALUD (health fairs and vaccines)

MAS DIVERSION (entertainment and family events)

MAS SABOR (cooking lessons on site every week)

MAS MUSICA (talent shows)
"The moment customers walk into the store, they will feel the warm Hispanic welcome, indicative of the Hispanic community and culture. We will welcome our guests with an Agua Fresca, and signs in the store speak to the Hispanic demographics," says Chavez. "All staff speak Spanish as well."
For those who attend (must be present to win) — prizes will include free giveaways and furniture. MAS will also be raffling off items for BACK-TO-SCHOOL preparations for families and children such as free haircuts for children for back to school, backpacks, and bicycles, and many prizes. Prizes will include more than $25,000 in resources to give back to the community!
Located in the heart of the Northwest Area (290 and FM 1960), this new location at 19714 NW Freeway is 21,000 square feet and has furniture for all rooms in the house, indoor and outdoor furniture, a mattress store inside, as well as a dedicated showroom for kids and teen furniture.
During the Grand Opening, MAS will welcome many dignitaries including Guest of Honor, Consul General of Mexico — Maria Elena Orantes.
VIDEO ASSETS: https://www.mas-furniture.com

https://vimeo.com/848601672

https://vimeo.com/848601684
"This is the lowest price furniture store in Houston, GUARANTEED," says President & CEO, Sam Zavary.
"We have gone above and beyond working with the furniture manufacturers to pass on the savings to this store for this demographic," says VP of Sales FAWAD Zavary. "Everyone works so hard for their money, but we understand that this group of individuals works so hard for the American dream. We don't want them to have to be fooled or pay more!
"At MAS, we want to help Hispanics, so that they can live a life of value and spend their money on other things. They are going to make their house a home by buying beautiful things, but then they will have money left over to be able to give a good quality life to their families," says Chavez.
Bianca Bucaram
THE BUCARAM PUBLIC RELATIONS Group
+1 713-898-6552
email us here
Visit us on social media:
Facebook
Twitter
LinkedIn


Originally published at https://www.einpresswire.com/article/647697169/exclusive-furniture-to-open-new-branch-dedicated-to-hispanics-mas-furniture-grand-opening-august-5th-2023