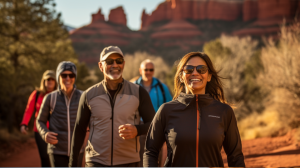 Jorny is redefining midlife through purpose and personal growth tools for people 55 and up
Jorny helps people discover their purpose and passions in their midlife
Hospitality growth company reinvents midlife through a unique combination of lifelong growth and hospitality
At JORNY, we firmly believe that life truly blossoms in the second half."
— Eliran Bar, CEO of JORNY
NEW YORK, NEW YORK, UNITED STATES, September 22, 2023 /EINPresswire.com/ — It's no secret that people are living longer. According to data from the U.S. census, the U.S. population aged 65 and over grew nearly five times faster than the total population over the century spanning 1920 to 2020. Delving further, additional information released by the Population Division of the United Nations showed that the United States was home to 89,739 centenarians in 2021. A centenarian is defined as a person who has reached the age of one hundred or more. By 2021, there could be well over 20 million centenarians worldwide.
What does this mean?

A societal shift regarding retirement, aging, and new ways to grow and live is required. That is what Jorny, a New York-based hospitality firm plans to do. Jorny aims to provide purpose and personal growth to a segment of the population that has been largely ignored.
"At JORNY, we firmly believe that life truly blossoms in the second half," says JORNY CEO Eliran Bar. "Over the next decade, the concept of retirement will evolve, with individuals choosing to work well into their 70s not out of necessity, but out of a genuine desire. Modern life now presents an enticing blend of professional engagement and travel, allowing people to pursue their passions with vigor."
He isn't wrong. A new McKinsey Health Institute (MHI) survey of more than 21,000 older adults across 21 countries finds that respondents agree about the importance of having a real purpose, managing stress levels, enjoying meaningful connections with others, and preserving independence rank high.
Jorny will provide the 55 and over market with community, exploration, and growth. By fostering an online and in-person community, Jorny members can build new friendships and lifelong relationships. And, with a new type of hospitality concept catered to personal growth and whose mission is to help Jorny members step outside of their comfort zones, Jorny hopes to unlock growth via unique worldwide and community-driven experiences.
But that isn't all that Jorny provides. One of their key offerings is their free growth compass which is scientifically based on leading psychological studies, consumer research, and questionnaires. Its objective is to help users expand on their personal growth, reach their potential, and uncover a new sense of purpose.
"With longer, healthier, and more prosperous lives, we have the opportunity to continue our personal growth well into our 60s, 70s, and beyond," says Itamar Bar, co-founder of JORNY. "This stage of life can be the most fulfilling, leading to growth and adventure that far exceeds the mundane restaurant visits or routine golf games. We aspire to help our members explore new destinations, experience new hobbies, make meaningful connections, and embrace continual growth. It's a time to savor the richness of life through both unconventional and personal development."
In fact, having a sense of purpose helps with preventing disabilities. A JAMA Psychiatry study showed that those who had a sense of purpose and goals were less likely to have a slow walking speed and weak grip strength, which are signs of declining physical ability.
Through Jorny's innovative product offerings and new concept of hospitality, Eliran and Itamar hope to rebrand not only the concept of retirement, but the overall health of our aging population, helping people live longer lives that are full of meaning.
Learn more at JORNY.com
Taylor L. Cole
JORNY
+1 972-333-4343
[email protected]
Originally published at https://www.einpresswire.com/article/656708065/tools-for-the-jorny-new-growth-hospitality-firm-jorny-aims-to-provide-purpose-and-personal-growth-tools-to-seniors