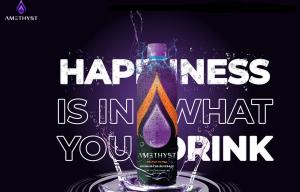 Healthy Beverage Line Expansions to Include Unique Specialty Premium Water Products: Alternative Wellness Health, Inc. (Stock Symbol: EXMT)
Alternative Wellness Health, Inc. (OTCMKTS:EXMT)
The EXMT plan on the Premium Water is that it will be the only water with the company's unique ingredients that quite literally allow EXMT to say "It's Just Better Water"."
— Jeff Flasco, Director of Beverage Division
CARSON CITY, NEVADA, UNITED STATES , August 9, 2023/EINPresswire.com/ — Healthy Beverage Line Expansions to Include Unique Specialty Premium Water Products with Target Sales Programs to Multiple Retail Outlets and Public Events: Alternative Wellness Health, Inc. (Stock Symbol: EXMT)
 Growth Oriented Marketing Company Focused on Botanical Health Beverages and also Software Applications.
 Expansion of Product Line to Greatly Improve Revenues and Profits.
 Launch of New Beverage Product Flavors at "Art of LA at NRG Studios"

 Philanthropy Project Event Held in North Hollywood, California.
 EXMT Owned Amethyst Beverage was the Title Sponsor Helping North Hollywood Event Raise Close to $50,000 Dollars.
 Anticipated Feature with the Guitar Center Foundation to Offer Water at the Flagship store in Hollywood and move 304 Other Locations in the Remaining 2023 Season.
 Beverage Products Tested with a Bio-Energetic Screening Device Which Analyzes for Balance of Both Ingredients and Quality.
Alternative Wellness Health, Inc. (OTC: EXMT), fka Anything Technologies Media, is a manufacturing and marketing company involved in the sales and marketing of botanical health products and software applications. EXMT is the parent company of subsidiary corporations and is focused on partnerships and acquisitions in innovative technologies and manufacturing sectors. EXMT and partners each have their own professional management team with extensive backgrounds in finance, manufacturing, marketing, and distribution. The EXMT goal is to combine the expertise of its team members to create a cohesive force, which will carry the company forward in the marketplace.
EXMT Expands Product Line to Greatly Improve Future Revenues and Profits
On August 8th EXMT announced the expansion of its new line of specialty botanical products. EXMT has fully developed and enhanced its packaging and is now moving forward with larger chains, in particular Grocery, Convenience Stores,s and large dispensary chains.
EXMT has its COAs completed "After Packaging" which will give clients confidence in the company's product makeup. These can now be seen on the EXMT websites. EXMT is now looking to package its Delta 9 HDI Premium Beverages into shots rather than full 16oz bottles. While this is a specialty item, EXMT believes the festival and concertgoers will appreciate the smaller package and purchase multiple shots. In addition to that, EXMT is also moving forward on its Amethyst Premium Water without any specialty botanicals.
The EXMT plan on the Premium Water is that it will be the only water with the company's unique ingredients that quite literally allow EXMT to say "It's Just Better Water". EXMT will look to promote this in the chains mentioned above, but also be the promoters of water at the festivals and events in order to be the ONLY water sold. This means that EXMT Premium Water products and Premium Water with specialty botanicals will be the only products available at various upcoming events.
EXMT Completes Festival, Art of LA, Launches Two New Flavors, and Targets New Acquisition Partners
On August 2nd EXMT announced its new flavor "Pineapple Coconut" and updated "Orange Mango" have been produced and are now put into the marketplace for sale.
EXMT owned Amethyst Beverage's specialty health beverages, Orange Mango CBD, and Pineapple Coconut is hitting the shelves now with Cucumber Mint in the works. The EXMT Delta 9 HDI Premium Beverages will also get a new flavor and label makeover with the same flavor pallet. The EXMT plan is to launch the new and improved Delta 9 HDI by September 2023.
EXMT just finished up the philanthropy project called "Art of LA at NRG Studios" in North Hollywood, California at the top Music Studio in the LA Valley where such artists like Papa Roach, Linkin Park, Hootie and the Blowfish, No Doubt, and many other produced their Grammy-winning albums. Artists and Entertainment Execs met and EXMT Amethyst Beverage was the title sponsor helping the event raise close to $50,000 dollars. EXMT was met with an overwhelmingly positive response. Amethyst expects to be featured with the Guitar Center Foundation and will begin offering its water with the flagship store in Hollywood and is expected to move on to their other 304 locations in the remaining 2023 season.
EXMT also had the Amethyst Orange Mango Premium Water tested with a Bio-energetic Screening device which analyzes the product for the balance of both ingredients and quality. It then scores product balance and compatibility of the product with each individual. The top score for both the product and the compatibility with the individual is 50 out of 50 and that means that the product is perfectly balanced and suitable for a perfect match for individuals.
"Now that we've put our feet in the Festival and special events arena, we fully anticipate the remaining events to be a big hit and sales tool for us. We have many activities and sales mechanisms we will be launching during these specialty events. Our reach from these events will increase our channels and markets for our new brand, logos, and flavors forthcoming," exclaimed Jeff Flasco, Director of the EXMT Beverage Division.
For more information on $EXMT visit: http://amethystbeverage.com/

Follow EXMT on Twitter@https://twitter.com/drinkamethyst

Follow EXMT on Instagram @https://instagram.com/liveamethystcbd
DISCLAIMER: CAP/FrontPageStocks/CorporateAds.com (CA) is a third-party publisher and news dissemination service provider. CAP/FPS/CA is NOT affiliated in any manner with any company mentioned herein. CAP/FPS/CA is a news dissemination solutions provider and is NOT a registered broker/dealer/analyst/adviser, holds no investment licenses, and may NOT sell, offer to sell, or offer to buy any security. CAP/FPS/CA's market updates, news alerts and corporate profiles are NOT a solicitation or recommendation to buy, sell or hold securities. The material in this release is intended to be strictly informational and is NEVER to be construed or interpreted as research material. All readers are strongly urged to perform research and due diligence on their own and consult a licensed financial professional before considering any level of investing in stocks. All material included herein is republished content and details which were previously disseminated by the companies mentioned in this release or the opinion of the writer. CAP/FPS/ CA is not liable for any investment decisions by its readers or subscribers. Investors are cautioned that they may lose all or a portion of their investment when investing in stocks. CAP/FPS/CA has been compensated $500 by a third party for the dissemination of this article.
Disclaimer/Safe Harbor:
These news releases and postings may contain forward-looking statements within the meaning of the Securities Litigation Reform Act. The statements reflect the Company's current views with respect to future events that involve risks and uncertainties. Among others, these risks include the expectation that any of the companies mentioned herein will achieve significant sales, the failure to meet schedule or performance requirements of the companies' contracts, the companies' liquidity position, the companies' ability to obtain new contracts, the emergence of competitors with greater financial resources and the impact of competitive pricing. In light of these uncertainties, the forward-looking events referred to in this release might not occur.
SOURCE: CorporateAds.com
Jeff Flasco, Director of Beverage Division
Alternative Wellness Health, Inc.
+1 650-222-2863
email us here
Visit us on social media:
Twitter
Instagram
YouTube
About Alternative Wellness Health, Inc. $EXMT


Originally published at https://www.einpresswire.com/article/649050085/healthy-beverage-line-expansions-to-include-unique-specialty-premium-water-products-with-target-sales-stock-symbol-exmt