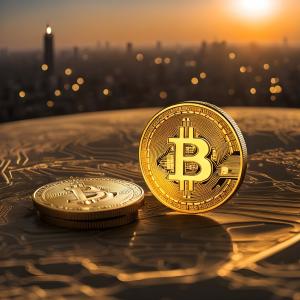 The new Israeli campaign against Hamas' crypto wallets has successfully frozen around 100 accounts (ilustration)
The CEO of Lionsgate Network, Bezalel Eithan Raviv
Israeli security forces have initiated actions to prevent cryptocurrency from falling into the hands of Hamas.
TEL AVIV, ISRAEL, October 30, 2023 /EINPresswire.com/ — For the first time since the outbreak of the war between Israel and Hamas on October 7th, Israeli security forces have initiated actions to prevent cryptocurrency from falling into the hands of the terrorist group.
The Israeli startup, Lionsgate Network, which specializes in cryptocurrency analysis and recovery, has joined the national effort to assist the government in identifying and intercepting crypto wallets associated with Hamas. The new Israeli campaign against Hamas' crypto wallets has successfully frozen around 100 accounts. Lionsgate Network is urging the public to remain vigilant and report any suspicious crypto wallets that may be linked to the terrorist organization Hamas. This information will enable the company to continue its efforts in freezing these accounts.
A technological source within Israel's security forces recently reached out to the Lionsgate Network to assist in tracking down Hamas' crypto wallets, and they have already achieved significant success. During this operation, approximately one hundred crypto wallets associated with Hamas-affiliated organizations have been successfully blocked.
This marks the first instance in the world where a coordinated effort is being conducted through a single company with the goal of identifying and blocking Hamas' crypto wallets.
Following the October 7th Hamas attack, Israeli law enforcement, supported by Lionsgate Network, froze over 100 accounts on Binance, the Chinese-founded world's largest cryptocurrency exchange, to disrupt the terrorist organization's funding via the platform.
A recent report from a defense system official cited data analysis companies, revealing that approximately $93 million was transferred to the crypto wallets of the Islamic Jihad between August 2021 and June 2022, and $41 million was transferred to Hamas during the same period. The Wall Street Journal has recently emphasized the challenge of determining whether these funds were used to finance the unprecedented attack on southern Israel.
Using crypto wallets allows for the transaction of substantial amounts of funds without the regulations or oversight typically provided by banks. Israel's Ministry of Defense, Yoav Gallant, commented in June of this year on Israel's success in seizing funds from the Hezbollah organization, stating that digital currencies have made efforts to curb terrorist financing significantly more challenging.
The CEO of Lionsgate Network, Bezalel Eithan Raviv: "Lionsgate Network is at the forefront of global blockchain analysis and recovery. Our team of experts tracks and monitors real-time cryptocurrency transactions, enabling us to identify and label suspicious financial activities and respond promptly to potential threats before they materialize. Currently, we are working to release the seized funds to support the thousands of families affected by the latest inhumane terrorist attack."
Lionsgate Network offers a service for tracing, analyzing, and recovering crypto assets, which assists individuals, businesses, and governments in reclaiming lost, stolen, or illicit cryptocurrency.
Lionsgate Network is currently seeking skilled hackers and blockchain specialists to help track and freeze additional Hamas crypto wallets.
To report suspicious crypto wallets please click here.
Tom wegner
Update Marketing Media LTD.
email us here
Originally published at https://www.einpresswire.com/article/665187120/israel-started-to-intercept-hamas-crypto-wallets