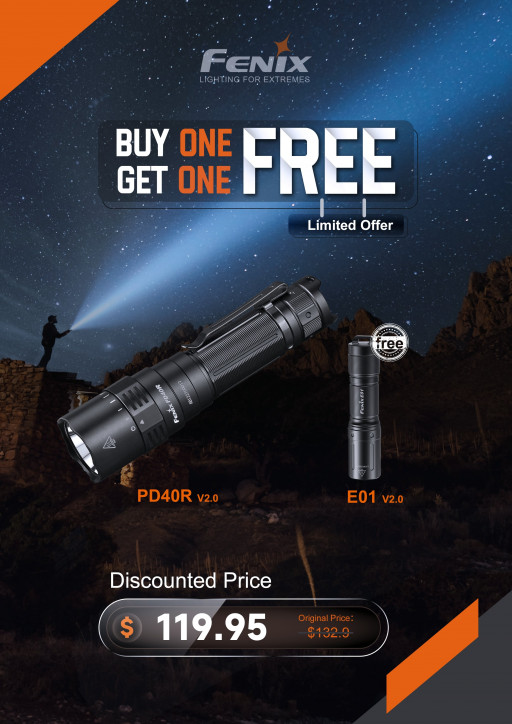 SHENZHEN, China - October 10, 2022 - (
Newswire.com
)
Fenixlight Limited, a professional provider of mobile lighting tools for more than 20 years, has always been delivering the ultimate in quality, innovation, and performance. On Oct. 10, Fenix will start the 2022 Annual Sale Promotion - to thank customers for their continuous support and to provide added value or incentives to consumers, wholesalers, and retailers.
Combo Offer
Buy One, Get One Free
To thank the customers, this Fenix discount offer is very high and attractive. Fenix will provide two products for the price of one product. It would be enjoyable to clear the wishlist at this time.
1. Limited Offer: buy one PD40R V2.0, get one E01 V2.0 free.
2. Bicycle Light Set: buy one BC26R, get one BC05R V2.0 free.
3. Headlamp Set: buy one HM70R, get one E-LITE free.
4. Flashlight Set: buy one TK16 V2.0, get one E02R free.
HM60R Price-off to $69.95
Many users have greatly loved the Fenix HM60R since its release last year. The Fenix HM60R is an intelligent outdoor headlamp that provides ultra-long runtime. Featuring spot and floodlights, the headlamp is excellent both in long-distance and wide-angle lighting; it is an excellent choice for long-term, high-intensity trail running. Grab the chance to get one for the adventure.
ARB-L18 Series Battery Half-price
1. Buy one TK35UE V2.0 or BC30 V2.0 at a regular price
Get two ARB-L18 Series batteries at 50% off.
2. Buy one PD32 V2.0 at a regular price
Get one ARB-L18 Series battery at 50% off.
It is sincere for Fenix to have this sales promotion despite the cruel fact that Fenix has been under the impact of continuously rising costs. And it is strongly recommended to get the interesting products.
Notice
Fenixlight Limited reserves the right to the final interpretation of this promotion.
The promotion period is from Oct. 10 to Dec. 31, 2022. The above options are only valid during the promotional period. After the promotion, the remaining products will be sold at regular prices.
ABOUT FENIX
Fenix has more than 20 years of experience manufacturing and selling reliable and durable mobile lighting products including high-performance flashlights, headlamps, bicycle lights, camping lanterns, and lighting accessories. Fenix products are widely used in professional fields such as outdoor, military, security, industrial, etc.
For additional information, visit Fenixlight.com.
Available for purchase at: Fenix-store.com and Fenixlighting.com.
Contact Information:
Fiona Ding
Marketing Specialist
[email protected]
Press Release Service by
Newswire.com
Original Source:
Announcing 2022 Fenix Annual Sales Promotion: More Joy Less Spend