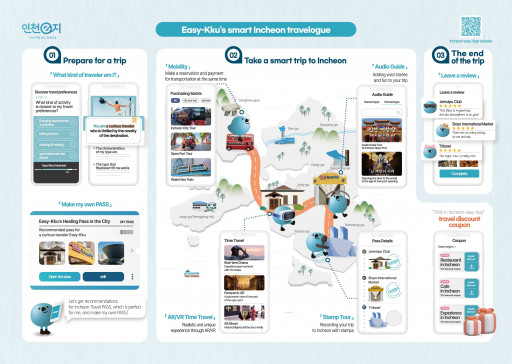 Newswire.com
)
Incheon of South Korea is known for Incheon international airport, but it is also a great city for K-tour. Popular Korean content such as K-drama 'Squid Game' from Netflix, K-movie 'Decision to Leave' - which was appreciated by Cannes Film Festival - BTS's music video 'Permission to Dance', and much other K content was filmed there. Incheon is filled with internationally beloved K-tour locations and it would be a shame to miss out on all the fun.
Incheon is an attractive tourist destination for K-tour. In order to make a visit more comfortable and easy, Incheon Tourism Organization is providing 'Incheon Easy' application for domestic and international tourists.
▶ A smart application for your comfortable and easy travel in Incheon, 'Incheon Easy'.
Incheon's travel elements and smart technology are combined into 'Incheon Easy'. It functions diversely and provides smart travel for everyone. 'Audio Guide', 'AI Recommend Pass', and 'Smart Coupon' are 3 functions that can be useful especially for international tourists, therefore highly recommended.
① Audio guide, the travel is music to your ears.
The audio guide of 'Incheon Easy' is a function that assists travel with rich stories without an actual guide. It guides travelers through Incheon's main tourist sights such as Chinatown, Open Port, Hongyemun and Sinpo street, Sinpo International Market, etc. Also, themed audio guide lets you time travel from Incheon station to Open Port by accomplishing missions. 'Incheon Easy' is provided in different languages such as English, Chinese, and Japanese and with the audio guide, travel can be richer and merrier, even if traveling alone.
② AI Recommend Pass. Travel recommendation to your taste.
The 'AI Recommend Pass' of 'Incheon Easy' should be used to suit one's taste when traveling Incheon. By answering the AI survey, it recommends tourist attractions and itineraries that are suitable for the traveler. The completed itinerary is provided in the forms of MY PASS map and a guidebook. The guidebook also provides opening hours and phone numbers of recommended tourist sights so that one can easily inquire and make a reservation.
③ Smart Coupon, full of discount benefits. Other recommended features.
Smart coupons provided by 'Incheon Easy' is a 'lifehack' that can't be overlooked. There are from 5~10% discount coupons to free coupons for various restaurants, cafes, and activities that can help with travel expenses and enrich travel.
Through the app, the traveler can also reserve and pay for different rides such as Incheon City Tour bus, Wolmi Sea train, etc. If there is any inconvenience due to language barriers, Incheon recommends using 1330Text chat. It is provided in different languages.
For those who would like to enjoy their travel free from a conventional group tour and be smart, 'Incheon Easy' would be a great alternative that could save expenses and time. 'Incheon Easy' is receiving positive reviews from its users; "It was convenient to download the travel information beforehand and save nearby restaurants and cafes according to my plan.", "I had a fulfilling trip by using recommended itinerary, self-storage, vouchers, etc."
Since South Korea is reopening its doors to tourists, Incheon is an attractive tourist destination for foreign tourists who are planning a K-tour. If you are planning on visiting Korea and Incheon, 'Incheon Easy' app is highly recommended for comfortable and easy travel.
Incheon Easy can be downloaded on Google Play and Apple Store for free.
*Incheon Easy homepage https://m.incheoneasy.com
Media Contact: 
Hyunjung Lee
[email protected]
Contact Information:
Hyunjung Lee
Manager
[email protected]
(+82)322897504
Press Release Service by
Newswire.com
Original Source:
Incheon Tourism Organization is Promoting Smart K-Tours With 'Incheon Easy' App