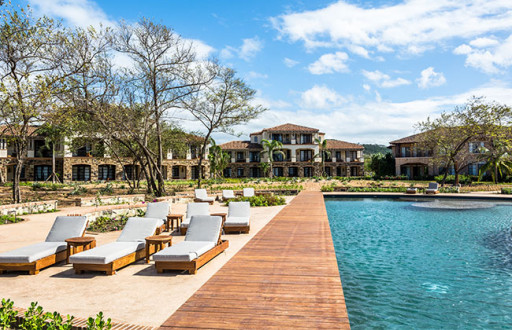 Elite Alliance Facilitates Real Estate Sales for Beachfront Residences in a Five-Star Resort
ROCHESTER, N.Y., January 26, 2023 (Newswire.com) - Elite Alliance®, the leader in luxury fractional real estate, hospitality management, and vacation home exchange, launches a co-ownership Residence Club concept at world-renowned Rancho Santana. Rancho Santana is a resort and residential community located on the Pacific Coast of Nicaragua boasting 2,700 acres of rolling hills, five unique beaches, a variety of dining options, and activities from adventure sports to a menu of wellness offerings. The Residence Club at Rancho Santana is a series of three-bedroom beachfront residences that lie within the resort complex and offer all the comforts of home along with mesmerizing views of the beach, Playa Santana.
Elite Alliance Real Estate is leading the sales efforts for The Residences, bringing its 30+ years' experience in fractional real estate and a residence club co-ownership structure. The Residence Club offers a 1/8th ownership with unlimited year-round enjoyment of all Club Residences. Owners enjoy access to the resort and its concierge services, farm-to-table restaurants, on-site amenities, airport transfer, special owners discount on restaurants and selected adventure experiences, as well as membership into Elite Alliance Exchange.
"We are excited to present this Residence Club co-ownership model to Rancho Santana with the guidance from Elite Alliance, a partner of ours since the beginning of 2018," said Chris Currey, Executive Vice President of Real Estate at Rancho Santana. "The Residence Club at Rancho Santana is where like-minded individuals share ownership of luxurious private residences and enjoy abundant and flexible lodging throughout the year. It was important for me to provide the advantages of real estate ownership combined with our already well-established resort amenities and services, without the high cost, worries, and responsibilities associated with traditional absentee ownership."
Residence Club owners receive true real estate ownership and have access to all club residences within their residence category with the right to use a residence anytime, subject to the reservation policies. Owners are also able to send unaccompanied guests, rent unused vacation time to help offset ownership expenses, and exchange vacations with owners of other luxury homes and residence clubs in more than 120 international locations through the Elite Alliance Exchange program.
"The consistent feedback we receive from our existing Exchange Members who have visited the property is nothing short of exceptional," said Rob Goodyear, President of Elite Alliance. "The friendliness and service provided by the Guest Experience team coupled with the prime beach location are reasons why we decided to introduce The Residence Club concept to this extraordinary resort."
The open-air, three-bedroom residences sleep up to six guests. Each Residence has a fully equipped kitchen, dining room and living area, outdoor terrace or balcony, and shared access to an infinity edge swimming pool. They are located within walking distance of the Clubhouse, restaurants, and Playa Santana beach.
For more information on Elite Alliance, please visit www.elitealliance.com, or contact Rob Goodyear at [email protected].
###
Contact Information:
Rob Goodyear
President of Elite Alliance
[email protected]
214.393.2842
Original Source:
Introducing the Residence Club at Rancho Santana on Nicaragua's Pristine Emerald Coast