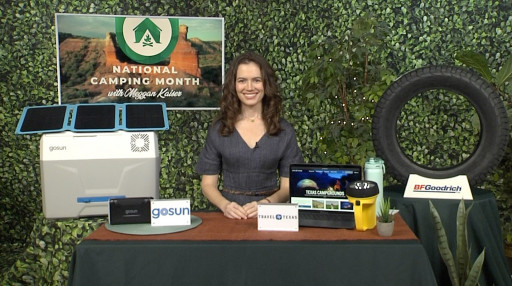 Author of 'Free Travel for the Modern Nomad,' Actress and Travel Host, Shares Tips for Enjoying Camping
ATLANTA, July 10, 2023 (Newswire.com) - Summer is here, which means that people are looking for new adventures. Travel expert, TV host and author Meggan Kaiser offers some tips on camping to help make sure everyone has an enjoyable experience, whether it be visiting the national parks or camping in the backyard. As the author of Everywhere for Nothing: Free Travel for the Modern Nomad, Meggan is known for having big adventures on a small budget. Whether it is traditional camping with a tent and campfire, or resort-style Glamping, here are some ways to help make the next adventure a success.
CAMPING DESTINATION
Texas is home to some of the most beautiful and diverse landscapes in the country, with plentiful options for first-time and experienced campers. It has close to 100 state and national parks that offer every imaginable type of landscape to explore ranging from beaches to lakes and rivers to mountains and prairies. Also, now is a great time to start planning a Texas camping trip for the fall to take advantage of the cooler temperatures and longer nights for gazing at the stars. Texas has something for everyone. For more information, visit www.traveltexas.com
STAYING SAFE
Traveling, especially camping, usually means driving somewhere, and road safety starts with tires. This BFGoodrich Trail-Terrain T/A tire is engineered with exploration and safety in mind, to handle tough terrain on or off road, plus it provides a comfortable and secure ride. Our greatest adventures often lie outside the road's painted lines, so live life and get out there with peace of mind by finding the BFGoodrich Trail-Terrain T/A tires. For more information, visit www.bfgoodrichtires.com
COMFORTS OF HOME
It is important that the food and drink trip stays fresh. For this, try the new GoSun solar coolers because they are solar-powered and never need ice. This means no digging through freezing ice, it is like going to the fridge at home. The Chill is perfect for camping, tailgating, the beach, or really any summer activity. Get the GoSun this Summer to stop having soggy sandwiches or rummaging through ice. For more information, visit gosun.co
About TipsOnTV
TipsOnTV covers a variety of topics, including food, entertaining, personal finance, technology, travel, health, lifestyle and more.
Contact Information:
R E
[email protected]
Original Source:
Meggan Kaiser Shares Tips to Prepare for A Summer Camping Explosion on TipsOnTv