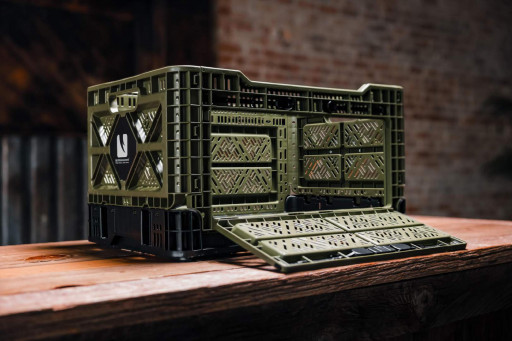 While weighing only about 5 lbs, their T-48 crate transports over 400 lbs of cargo, bears one ton of top weight, and includes patented side-access door.
WILLIAMSBURG, Va., February 13, 2023 (Newswire.com) - The American outdoor tactical gear company Outstandards launches its newest product into the U.S. market this week, the rugged Transformer 48 (T-48) collapsible crate. The T-48 crate is highly unique because of several key innovations that make it one of the most durable and versatile collapsible crates in the world. The T-48 crate -- which holds a volume of 48 liters (12.7 gallons) and weighs about 5 pounds -- can carry over 400 lbs of cargo, setting it apart from any other competitors in this market. Second, the T-48 crate is stackable with a top compression weight capacity of 1.8 tons, allowing a wall of crates to hold enormous weight. Third, incorporated into the T-48 crate is a side access window, which can be opened to access contents on the inside without the need to move or unstack crates.
One of the most innovative features of the Outstandards crate is its collapsible design. When not in use, the crate folds down easily to a collapsed height of less than 3 inches. This compact folded size saves valuable storage space and also permits for the transport of large numbers of crates in vehicles. With its unique design and unparalleled rugged features, this new crate is set to revolutionize the way people manage their storage needs.
The T-48 is designed for a wide variety of uses, from outdoor adventures to home and office storage to vehicle transport and use on the street. A trolley cart is also available, which the crate locks onto and which carries over 300 lbs of weight, making it a viable transport system for street, garage, or warehouse. Outstandards also carries a wooden table top and a cooler bag that fits snugly onto the crate; creating an ideal outdoor package for campers.
The Williamsburg, Virginia-based company is committed to providing customers with products that are highly functional and environmentally responsible. The T-48 crate is made of 100 percent polypropylene plastic, a fully recyclable material that is highly durable, resistant to fatigue, and has high impact strength.
Outstandards COO Jared Boyd said, "We are thrilled to introduce our new collapsible crate to the market. At Outstandards our goal is to provide our customers with innovative, highly adaptive, and sustainable storage solutions. This new product is a testament to our commitment to this goal and we are confident that our customers will love it. Our crate will be a must-have item for anyone who needs to store and transport gear." Mr. Boyd added that Outstandards holds a commitment to providing the best products and services to their customers.
The Outstandards collapsible T-48 crate is available online at outstandards.com now.
Contact Information:
Jared Boyd
COO
[email protected]
9162072692
Original Source:
Outstandards Releases the Most Rugged Collapsible Crate Into the US Market