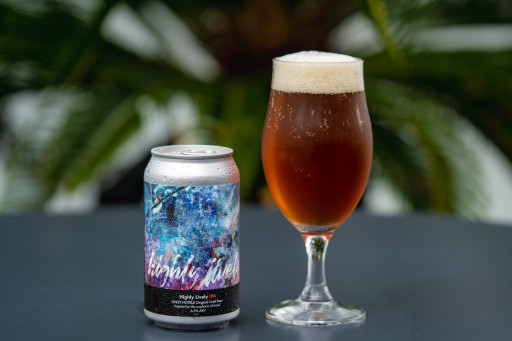 The beer draws inspiration from the exhilaration of travel, and the hotel's vibrant atmosphere enhances the experience.
TOKYO, April 26, 2023 (Newswire.com) - LIVELY HOTELS, a leading hospitality company created by popular Japan real-estate developer Global Agents, just announced the launch of its newest original IPA beer, Highly Lively. The beer is a tribute to the lively and dynamic atmosphere of LIVELY HOTELS' properties, which are known for their exceptional hospitality, vibrant ambiance, and high energy.
Highly Lively is a full-bodied and well-balanced IPA that showcases a beautiful blend of hops and malts. It has a bright, citrusy aroma that delights the senses and a smooth, crisp finish that makes it the perfect beer to enjoy on any occasion. The beer has an ABV of 6.5%, making it perfect for those who appreciate a full-bodied IPA with a little extra kick.
"We are thrilled to introduce Highly Lively, our latest original IPA beer, to our guests and beer enthusiasts alike," said Takeshi Yamasaki, CEO of Global Agents. "We wanted to create a beer that not only tastes great but also reflects the energy and atmosphere of our hotels. We are confident that Highly Lively will become a fan favorite among our guests and beer enthusiasts."
The creation of Highly Lively is a testament to LIVELY HOTELS' commitment to delivering outstanding service and amenities that cater to the needs of today's modern traveler. The company has always believed in offering guests a memorable experience that is unique to each of its properties. Highly Lively is an extension of this philosophy and a reflection of the vibrant atmosphere that can be found at LIVELY HOTELS' properties.
The brewing of this new beer was done in collaboration with SETOUCHI, a local craft brewery from the Kanagawa prefecture, particularly known for its exceptional quality. The brewery's experienced brewmasters worked closely with Lively Hotels' team to create a beer that captures the essence of Lively Hotels' properties. The result is Highly Lively, a beer that is full of flavor and character. It has been meticulously crafted using only the finest ingredients, including carefully selected hops and malts. The beer's flavor profile is complex and balanced, with a smooth finish that lingers on the palate.
Highly Lively IPA will be available starting April 29 at all LIVELY HOTELS properties. Guests can enjoy the beer in the dynamic atmosphere of the hotels or take a taste of the lively energy with them wherever they go.
Global Agents, the parent company of LIVELY HOTELS, was founded in 2005 and has enjoyed great success in the Japanese rental market with Social Apartment, their brand of co-living spaces. The company has since expanded exponentially, launching six different brands of lifestyle hotels across Japan. In 2020, they consolidated all of their brands under the name LIVELY HOTELS. With a current portfolio of 11 hotels and over 50 co-living apartments, Global Agents has become a prominent player in Japan's hospitality industry. The company puts a focus on exceptional hospitality and memorable experiences and has established a reputation for delivering outstanding service and amenities that cater to the needs of today's modern travelers.
Contact Information:
Zacharie Coskun
International Marketing Manager
[email protected]
+81-3-6433-5792
Original Source:
Popular Japan-Based Hospitality Group LIVELY HOTELS Launches Highly Lively, Its First Original IPA Beer