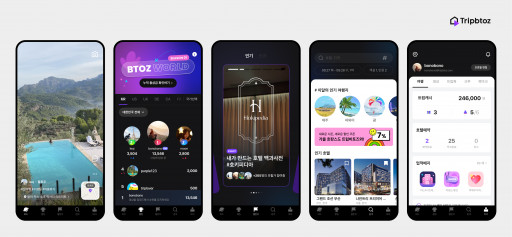 Newswire.com
)
Tripbtoz is a one-stop travel platform based on user-generated video content. Users share their short-form travel videos via app, and others can easily book hotels shown in the clips. The Korean startup differs from existing OTAs in providing user cross-communication tools in addition to basics such as lowest-priced accommodation. Users can simplify the step of travel consideration by experiencing indirectly and choosing destinations at the same time. This innovative challenger launched a renewal app in September that strengthens the travel community function and more enjoyment.

CEO Jiha JUNG introduced his company as a new web 3.0 era platform during the presentation under "The next wave of travel industry" at the world's largest mobile device fair "MWC (Mobile World Congress) Las Vegas 2022." Tripbtoz, well-received in Korea, plans to target the Southeast Asian market, starting with the establishment of Singapore corporation in the first quarter of next year. The company also aims to focus on entering global markets including the U.S. by launching English services in the first half of 2023.
The five tabs of their renewed app are as follows.
Travel around the world while watching the video - FEED
Opening the app, one can see 'Feed' at first. In this SNS look-alike menu, users can watch videos uploaded by other travelers and click "Likes" or leave comments. If the users are interested in hotels, the user can click on the location information at the bottom of the video to go directly to the reservation step of the accommodation.
Upload videos, conquer the area, and get rewards. - RANKING
A particularly notable feature of App 3.0, the tab is related to the 'Travel 2 Earn' service that actual rewards are given to. Travelers upload short forms with location information about specific hotels or filming places. The platform determines the ranking by combining user activities such as sharing, "Likes and views" counting, and comments. The top 100 rankers of each regional area earn Tripcash that can be used for bookings. Users conquer each area categorized as countries, larger provinces, local counties and cities, and accommodations, and more rewards are distributed over areas where more travelers competed. 
Hurdle the upload worry and get a chance to win a prize. - CHALLENGE
The Challenge tab, also a notable new menu, participates in a set topic with short-form like TikTok and YouTube shorts. If the user has a hard time deciding what to film, these missions will lead the users. Current challenges are "Ho-kipedia" (introduction of hotels), "Point-a-pin Challenge" (about local restaurants & attractions), and "What's in my trip" (freewrite), and events will also be held to draw and give prizes only among challenge participants.
SEARCH / MY

On two other tabs, travelers can search for 870,000+ accommodations or check reservation information, earn Tripcash, and all about real & virtual adventures.
Contact: https://www.tripbtoz.com/
Contact Information:
Sang Yoon
Manager
[email protected]
+821036011444
Press Release Service by
Newswire.com
Original Source:
Tripbtoz, a Travel Experiences Provider Beyond Time and Space, Declares Its Entry Into the Global Market in 2023