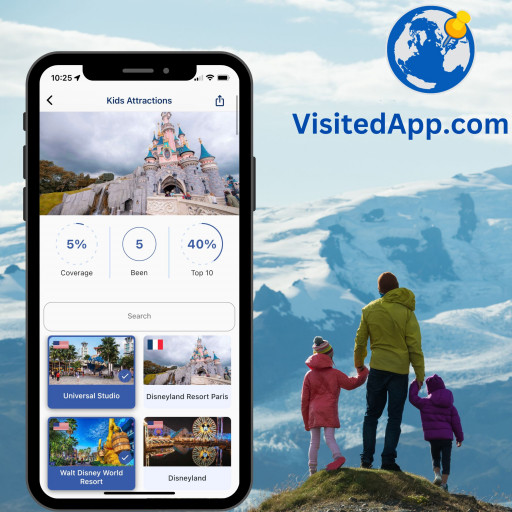 Travel App Visited Compiles Users' Data to Determine the Most Visited Family Friendly Destinations in the World. Users can also select from other lists such as US National Parks, African Safari and Top Cruise Ports.
Newswire.com
)
The travel app Visited, published by Arriving In High Heels Corporation, has released a list of the top 10 most visited kids' attractions around the world.
Visited, available on iOS or Android, is a top travel app with over 1 million users. Visited allows users to mark off places they've been, map their personal travel journeys, see customized travel stats, discover new destinations, and get their personal travel map printed.
The top 10 most popular kids' attractions include:
Universal Studios offers large-scale kid-friendly theme parks in Florida and California, featuring themed rides, characters, and games. 
Disney Resort Paris gives kids a chance to explore their favorite Disney movies in animated, interactive exhibits and rides. 
Walt Disney World Resort in Orlando, Florida, serves up fun for the whole family, with four theme parks and two water parks.
Disneyland is the original theme park founded by Walt Disney in Anaheim, California, with 9 Disney-themed "lands" for kids of all ages to enjoy. 
SeaWorld offers kids marine life education and exploration, with shows and activities featuring rescued marine life. 
Busch Gardens in Tampa, Florida, and Williamsburg, Virginia, has rides, kids' play areas, and animal encounters for family fun. 
U.S. Space & Rocket Center is the largest space museum in the world, with interactive exhibits, rockets, and space simulations for kids to enjoy. 
Neuschwanstein Castle ​​is a fairy tale-esque castle in Germany that's the real-life inspiration for Disney's Cinderella castle. 
Science Museum London caters to science-loving kids with interactive exhibits and a 3-D theater for science adventures. 
Tivoli Gardens is an amusement park in Copenhagen, Denmark, with kid-friendly rides, games, and shows. 
To see the full and most up-to-date list which is updated in real-time of the most visited Family attractions as well as other travel lists, download Visited on iOS or Android. 
To learn more about the Visited app, visit https://visitedapp.com. 
About Arriving In High Heels Corporation
Arriving In High Heels Corporation is a mobile app company with apps including Pay Off Debt, X-Walk, and Visited, their most popular app. 
Contact Information
Anna Kayfitz
Contact Information:
Anna Kayfitz
CEO
[email protected]
Press Release Service by
Newswire.com
Original Source:
Visited App Publishes List of Top 10 Most Visited Kids' Destinations