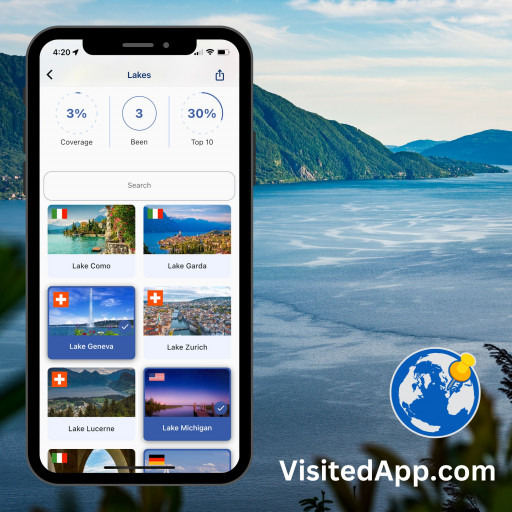 The travel app takes a deep dive into the most visited lakes in the world based on user data.
Newswire.com
)
The travel app Visited by Arriving In High Heels Corporation has published a list of the top 10 most popular lakes in the world based on user data.
Visited, available on iOS or Android, is a travel app with over 1.5 million users who check off places they've traveled to around the world. Users can discover new places, set travel goals, browse top 10 lists, get printed custom travel maps, and more in the Visited app.
The top 10 most popular lakes in the world include:
Lake Como in northern Italy offers breathtaking views of the Alps and Renaissance-era architecture in the nearby villages of Bellagio and Como.
Lake Garda is a popular vacation destination in Italy that features water sports and family-friendly activities.
Lake Geneva in the northern Alps serves up stunning mountain views and luxury shopping, spas, and upscale resorts.
Lake Zurich in Switzerland features serene mountain views in the Alps as well as water sports and proximity to nearby attractions in the city of Zurich.
Lake Lucerne in central Switzerland is nestled in the Alps and borders the town of Lucerne, which includes medieval architecture.
Lake Michigan borders Illinois, Michigan, and Wisconsin in the U.S. and includes 26 miles of shoreline along the city of Chicago, including beaches, waterfront paths, and Navy Pier.
Lake Maggiore offers beautiful mountain views along the southern Alps in Italy and Switzerland.
Lake Constance at the foot of the Alps borders Germany, Austria, and Switzerland and offers sailing, windsurfing, swimming, and serene natural views.
Loch Ness in Scotland features stunning views and beautiful hiking as well as legendary tales of the Loch Ness Monster.
Lake Bled located in Slovenia in the Julian Alps features breathtaking views and medieval history.
To see the full list of the most popular lake destinations and over 50 top ten lists of the top attractions in the world, download Visited on iOS or Android. 
To learn more about the Visited app, visit https://visitedapp.com. 
About Arriving In High Heels Corporation
Arriving In High Heels Corporation is a mobile app company with apps including Pay Off Debt, X-Walk, and Visited, their most popular app. 
Contact Information
Anna Kayfitz
Contact Information:
Anna Kayfitz
CEO
[email protected]
Press Release Service by
Newswire.com
Original Source:
Visited Shares List of the Most Beautiful Lakes in the World