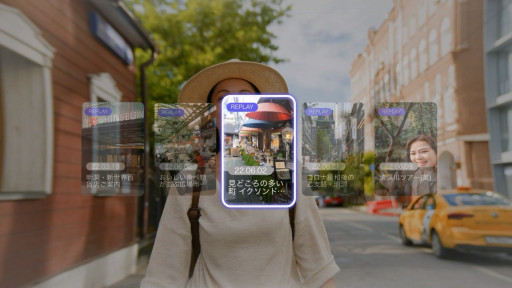 Newswire.com
)
VR Edu implements the meeting of cultures around the world by utilizing its own technology, the Virtual Travel System (VTS). The two-way cultural metaverse space "Enjoy Street (www.enjoystreet.com)," which combines virtual reality (XR), is a new concept of travel space that connects users online and offline through its opening in March 2022. They provide a new travel experience such as tourism and shopping through the live commerce convergence service non-face-to-face.
Jaeheon Kim, CEO of VREDU, said, "We prepared metaverse as a space for new cultural exchanges after the new coronavirus infection (COVID-19) and waited for online and offline travel to proceed."
Enjoy Street aims for "a place where everyone who likes to travel becomes a guide and they can all enjoy traveling together." Enjoy Street was planned and developed to serve foreigners who could not come to Korea at the time when it was cluttered with COVID-19 in October 2020. It has been continuously updating since its online opening in Japan in March 2022. Enjoy Street is a global blog with four themes including "portal (www.enjoystreet.com) which includes travel photos and travel feedback," "live (live.enjoystreet.com) for videos and live broadcasts," "shop (shop.enjoystreet.com) where users can sell and purchase various travel products," and "blog (blog.enjoystreet.com) where everyone comes together under the topic of traveling."
Enjoy Street, which presents a new standard for travel guides, introduces various travel content through a total of three groups of guides. The guide, who holds the nationally accredited "Tour Interpretation Guide" license, can sell a variety of content and travel products both online and offline. Ordinary members (travel experts) will be registered as "travel experts" after internal verification. Afterward, if one receives a certain amount of training and passes the test on an MR-based guide education platform operated by Enjoy Street, one can obtain a "VTS (Virtual Travel System)" license and product travel content and sell products online.
In addition, VR Edu also operates "YGOON," which has 310,000 college student members in Korea. Through the cooperation of the two brands, they desire to lead the new tourism commerce field. YGOON identifies members' consumption tendencies through artificial intelligence (AI) and big data and recommends and predicts them. 
VR Edu is also practicing environmental, social, and governance (ESG)-friendly management. It encourages eco-friendly consumption and sells products from small and medium-sized enterprises and small businesses abroad. Going beyond tourism, food, clothing and shelter will be incorporated into leisure activities such as performances.
Contact Information:
Sang Yoon
Manager
[email protected]
+821036011444
Press Release Service by
Newswire.com
Original Source:
VR Edu, a Company That Creates Platforms for Tourism and Travel, Launches Enjoy Street, a Platform Where Everyone Can Share Traveling Ideas