NEWPORT NEWS, Va., July 26, 2023 (GLOBE NEWSWIRE) — HII's (NYSE: HII) Newport News Shipbuilding (NNS) division has completed a significant milestone in the refueling and complex overhaul (RCOH) of the aircraft carrier USS John C. Stennis (CVN 74).
NNS shipbuilders and USS John C. Stennis sailors held a mast-stepping ceremony Wednesday, an ancient maritime custom of placing a coin underneath the ship's mast to bring good fortune. A time capsule containing photos, a piece of the old mast, several coins and other artifacts was attached to the interior of the main mast.
"It's always great making significant progress and checking off major accomplishments during this RCOH period – today is yet another triumph by this team," said Capt. J. Patrick Thompson III, the ship's commanding officer. "This mast stepping allows us to acknowledge our past as we move into the future. Today we place a number of items in our time capsule to weld to the mast – to honor this moment in history, and more importantly to honor the workers and Stennis crew members helping us prepare the ship for another 25 years."
The ceremony followed a major milestone this spring when the shipyard installed the ship's new main mast, which raises the carrier's distinctive profile 123 feet above the flight deck. This marks the first RCOH during which the mast was installed all in one section using a new 315-ton crane HII invested in to support the RCOH program.
Photos and video accompanying this release are available at:
https://hii.com/news/uss-john-c-stennis-mast-stepping-rcoh-newport-news-shipbuilding
"When the mast lands on the carrier, it represents one of the most visible construction milestones in the overhaul," said Rob Check, NNS vice president, in-service aircraft carrier programs. "Our highly skilled shipbuilders are working with our Navy partners, our suppliers and numerous contractors to recapitalize this ship and deliver her back to the Navy for another 25 years of service."
The RCOH process is performed only once during the ship's 50-year lifetime and involves upgrades to nearly every space and system on the ship. Tanks, the hull, shafting, propellers, rudders, piping, ventilation, electrical, combat and aviation support systems are repaired, upgraded and modernized. Work also includes defueling and refueling the ship's two nuclear reactors, and repairs, maintenance and upgrades to the propulsion plant.
After the RCOH, USS John C. Stennis will be the most modern and technologically advanced Nimitz-class aircraft carrier in the fleet and will continue to be a vital part of the nation's defense. The RCOH represents 35% of all maintenance and modernization in an aircraft carrier's service life.
NNS is the only shipyard with the skilled workforce and facilities equipped for this project. USS John C. Stennis is the seventh Nimitz-class carrier to undergo RCOH.
About HII
HII is a global, all-domain defense provider. HII's mission is to deliver the world's most powerful ships and all-domain solutions in service of the nation, creating the advantage for our customers to protect peace and freedom around the world.
As the nation's largest military shipbuilder, and with a more than 135-year history of advancing U.S. national security, HII delivers critical capabilities extending from ships to unmanned systems, cyber, ISR, AI/ML and synthetic training. Headquartered in Virginia, HII's workforce is 43,000 strong. For more information, visit:
Contact:
Todd Corillo
[email protected]
(757) 688-3220
A photo accompanying this announcement is available at:
https://www.globenewswire.com/NewsRoom/AttachmentNg/0589fa9a-70fe-46f4-a49d-b71eaeeb5a27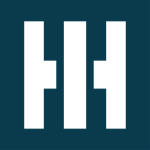 CVN 74 Mast Stepping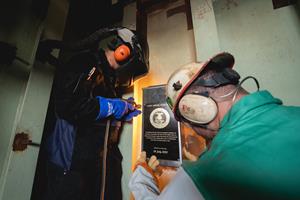 Shipbuilders Wesley Smith, left, and Clay O'Brien attach a time capsule to the interior of the main mast of USS John C. Stennis (CVN 74) during a mast-stepping ceremony on Wednesday, July 26, 2023 at HII's Newport News Shipbuilding division. The ceremony followed a major evolution this spring when the shipyard installed the ship's new main mast as part of the aircraft carrier's mid-life refueling and complex overhaul (Photo by Ashley Cowan/HII).
Originally published at https://www.einpresswire.com/article/646567439/hii-completes-installation-of-uss-john-c-stennis-cvn-74-main-mast