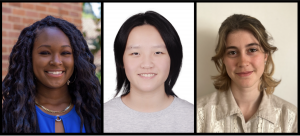 Rising drone industry talent will gain experience and provide new perspective
The internship initiative grew out of commitment to foster a culture of learning and innovation and to provide valuable opportunities for young talent to gain hands-on experience in our industry."
— Sharon Rossmark, Founder and CEO of Women and Drones
CHICAGO, IL, U.S.A., June 29, 2023/EINPresswire.com/ — Women and Drones has launched an internship program, welcoming Shani Waite, Dailei Zhang and Grace Donavan-Lafuente to the organization for the summer. The young women are students from the University of Chicago and Prairie View A&M University and have been selected for their academic excellence, leadership potential, and passion for the Women and Drones mission. As interns they will work on various projects under the guidance of experienced mentors.
"The internship initiative grew out of commitment to foster a culture of learning and innovation and to provide valuable opportunities for young talent to gain hands-on experience in our industry," says Sharon Rossmark, Founder and CEO of Women and Drones. "We see it as a win-win situation for the students and our company. The students can apply their academic knowledge to real-world problems, develop new skills, network with professionals, and explore their career interests. The company benefits from the fresh perspectives, creativity, and enthusiasm and identifies and nurtures potential future employees."
Grace Donavan-Lafuente is a Molecular Engineering Major and Visual Arts Minor at the University of Chicago. With a strong passion for technology and a commitment to advancing gender diversity, Grace joins the team with a mission to transform Women and Drones Vertical Space e-magazine. She hopes to enhance the reader experience when it comes to emerging technology and foster more interconnection for small businesses in the uncrewed aviation industry.
Dailei Zhang is an international student at the University of Chicago with an interest in biology, chemistry, computer science and the aviation technologies industry. "It is such an honor to be part of a team dedicated to making the aerial industry more friendly towards women through information sharing and community building" she says. During the internship Dailei will focus on the creation of additional international chapters of Women and Drones.
Shani Waite is a senior at Prairie View A&M University in Texas. She is a Criminal Justice major with a Concentration in Criminalistics and Minor in Psychology, as well as a member of the golf team. Shani's first experience with drones was being filmed while playing at a PGA Junior Golf Championship. Combining her research on drones and criminal justice education, Shani will help Women and Drones create drone training for Texas Public Safety officials that aligns with the Texas Commission of Law Enforcement Standards.
About Women and Drones

Women and Drones is a leading organization dedicated to driving excellence in the uncrewed aircraft systems (UAS) and Advanced Air Mobility (AAM) industry by advocating for female participation in this dynamic segment of the global economy. Success is being achieved by partnering with companies committed to an inclusive culture where women can thrive. Programs range from kindergarten to career in efforts to balance the gender equation in the industry now, as well as for the future of flight. Find out more by visiting www.WomenandDrones.com
Media Contact
Women and Drones
email us here
Visit us on social media:
Facebook
Twitter
LinkedIn
Instagram
YouTube


Originally published at https://www.einpresswire.com/article/642148593/women-and-drones-welcomes-new-interns