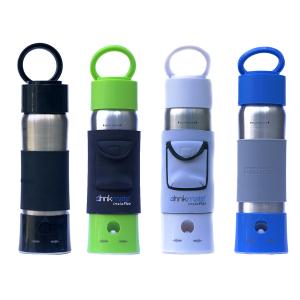 First of Its Kind Sparkling Water Bottle Enables On-the-Go Carbonated Hydration
ANN ARBOR, MICHIGAN, UNITED STATES, June 29, 2023/EINPresswire.com/ — Drinkmate today announced their latest sparkling beverage innovation, the first-of-its-kind, new Drinkmate instaFizz water bottle. This new introduction is an enhanced design of instaFizz and is the first reusable water bottle that can carbonate any cool beverage.
Unlike a traditional water bottle, the instaFizz features Drinkmate's proprietary fizz infuser technology that enables users to quickly add the excitement and taste of fizz to their hydration of choice. To accomplish this carbonation, an 8-gram CO2 charger is inserted in the bottom of the Drinkmate instaFizz water bottle. With a simple twist of the bottle's bottom cap, voila: the drink inside is carbonated. Extra pressure is released by slowly turning the top cap, giving you refreshing carbonated water (or any cold beverage) on the go.
Another feature of the latest addition to the Drinkmate line is stainless-steel construction that makes the instaFizz highly durable, eco-friendly and a healthier option that is BPA-free. instaFizz is easy to carry with its built-in carry ring, weighs less than 1lb, and holds up to 21 ounces of liquid. Each 8 gram CO2 cartridge carbonates up to 15.5 oz in the Drinkmate instaFizz, and is itself recyclable. A release button for the cartridge makes it easy and safe for even kids to use. Product dimensions are 10.25" tall with a 3" diameter for convenient portability. instaFizz comes with a wide mouth bottle design which makes it easy to add ice, fruit chunks or other ingredients, and easier to clean.
Drinkmate instaFizz is the perfect companion on the road, at the gym, on a hike, in the office and classroom, and anywhere consumers want to add a little bubbly to their healthy hydration. Besides water, instaFizz will sparkle juices, sports drinks, iced tea, or any drink with your favorite health supplement mixed in. Available in stainless steel with blue, black, green and white color options. The new and improved Drinkmate instaFizz is available for purchase on Drinkmate.us. The retail price is $69.99 for the Drinkmate instaFizz and includes 10 8g CO2 cartridges and a silicone insulating sleeve. Make Life Sparkle with the Drinkmate instaFizz.
###
About Drinkmate
Drinkmate's mission is to allow consumers to get creative in discovering new beverages, drink healthier and have fun, while reducing plastic bottle waste. Its proprietary technology allows the consumer to carbonate any kind of beverage safely and quickly. Based in Ann Arbor, Michigan, the company serves as the global headquarters for the Drinkmate brand with operations in Asia, Europe and the Americas. For more information, please visit Drinkmate.
Kristyn Ristaino
Avalon PR Group
+1 512-777-8602
email us here
Visit us on social media:
Facebook
Instagram
Introducing the instaFizz Carbonating Water Bottle


Originally published at https://www.einpresswire.com/article/642196875/drinkmate-introduces-the-new-stainless-steel-instafizz-portable-beverage-carbonating-bottle