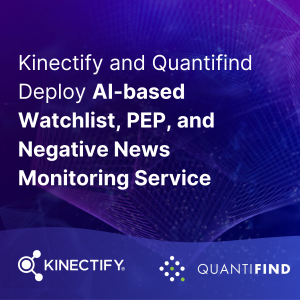 AI-based screening provides 90% reduction in false-positive rates
LAS VEGAS, NV, UNITED STATES, November 9, 2023 /EINPresswire.com/ — Kinectify, a leading anti-money laundering (AML) risk management technology company serving gaming operators in the US and Canada, has announced a partnership with Quantifind, a premiere provider of AI-powered watchlist screening and negative news monitoring technology to tier 1 financial institutions and government organizations including the US Department of Defense. This partnership makes the latest AI-enabled sanctions, watchlist, PEP, and news monitoring technology available to gaming operators through the Kinectify monitoring platform.
Kinectify continues to roll out its all-in-one AML platform that empowers gaming operators to proactively manage risk while driving dramatic efficiency. One area of compliance bogged down by false matches is watchlist, sanctions, PEP, and adverse media screening, with over 95% false-positives that compliance teams must adjudicate. Quantifind is leading the modernization of this area with cutting-edge AI capabilities and data science driving over 90% name resolution accuracy.
"Now gaming organizations have access to the same tools used by the Department of Defense and top banks," said Joseph Martin, CEO of Kinectify. "I'm particularly impressed with their unique name science-based AI that is driving dramatic reductions in false-positives and finding more true matches than other services on the market."
Ari Tuchman, CEO of Quantifind expressed his enthusiasm for extending services to the gaming industry, "We are excited to enter the gaming market in partnership with Kinectify. Our clients are seeing over 90% name resolution accuracy across their entire customer databases and 50% improvement in investigative efficiency. We are thrilled to bring this capability to the gaming community in partnership with Kinectify."
Kinectify believes in providing leading-edge technology to the gaming industry. The company will continue identifying and integrating best in-class solutions like Quantifind's watchlist screening and news monitoring and Kindbridge Behavioral Health's responsible gaming tools, to build a comprehensive platform that empowers gaming businesses.
Kinectify clients, including names like Caesar's Southern Indiana, have selected the advanced solutions provided by Kinectify and Quantifind to enhance their capabilities in disrupting financial crime risk with greater accuracy, speed and scale. As it identifies other organizations doing impressive work, Kinectify will continue to partner and integrate with services, such as Kindbridge Behavioral Health for responsible gaming player care and Quantifind for watchlist screening and news monitoring.
ABOUT KINECTIFY

Kinectify is an AML risk management technology company serving gaming operators in the US and Canada. Kinectify's modern AML and RG platform seamlessly integrates all of an organization's data into a single view and workflow, empowering gaming companies to efficiently manage risk across their enterprise. In addition, Kinectify's advisory services enhance gaming operators' capacity with industry experts who can design and test programs, meet compliance deadlines, and even provide outsource services for the day-to-day administration of compliance programs.
To learn more about Kinectify and book a demo, visit www.kinectify.com. 
ABOUT QUANTIFIND

Quantifind is a top provider to tier 1 banks, digital banks, financial institutions, and government organizations for watchlist, sanctions, PEP, and negative news screening and monitoring. These organizations benefit from proven outcomes: 75% reduction in false positives, 50% improvement in investigative efficiency, and daily screening of the entire vendor/donor base with >90% name resolution accuracy.
Quantifind's AI-powered automation uncovers relevant risk signals from disparate and unstructured data to help risk specialists investigate people and organizations faster and more accurately. Quantifind's Graphyte automation platform maximizes risk intelligence workflows by delivering superior entity resolution, dynamic risk typologies, knowledge graph technology, and name science.
To learn more about Quantifind and book a demo, visit https://www.quantifind.com

Joseph Martin
Kinectify Inc.
+1 7252106538
email us here
Visit us on social media:
Facebook
Twitter
LinkedIn


Originally published at https://www.einpresswire.com/article/667430311/kinectify-and-quantifind-deploy-ai-based-watchlist-pep-and-negative-news-monitoring-service