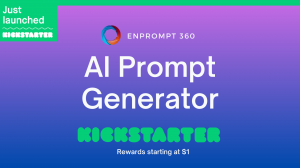 Enprompt 360: Ushering a New Era in AI Chat Interaction – An Advanced Prompt Generator that brings the best out of  Bingchat, ChatGPT or any AI Chatbot.
DOVER, DELAWARE, UNITED STATES, August 18, 2023/EINPresswire.com/ — The top job in 2023, as designated by the World Economic Forum, is prompt engineering. This emerging field involves the skill of creating well-crafted prompts to effectively harness the capabilities of AI models for optimal outputs. Nevertheless, among the vast user base of 100 million ChatGPT users, not all have mastered this skill. To bridge this gap, a new AI tool has emerged and it's now listed on Kickstarter – Emprompt 360.
Enprompt 360 serves as an AI Prompt Generator, offering a straightforward method for generating advanced prompts that unlock the full potential of AI chatbots. One of its standout features is its ability to comprehend context and intent, resulting in the formulation of pertinent, coherent, engaging, and captivating prompts. This functionality is particularly beneficial for chatbots like Bingchat and ChatGPT. The tool's greatest advantage lies in its adaptability, as it is capable of generating prompts for any conceivable task or subject, across multiple languages. This feature significantly enhances the user experience and fosters more natural and globally accessible interactions with AI
 "What caught my attention the most is the sheer simplicity behind crafting remarkably effective advanced prompts that can truly unleash the full potential of any AI chatbot" said Dr. Jeorg Storm, EX-CIO Daimler, Mercedes-Benz in his review post on LinkedIn. He mentioned that "Even in its Beta stage, it demonstrates impressive capabilities like generating advanced prompts with just three words, prompts tailored for diverse tasks or subjects, and across various languages"
The project is currently raising funds through Kickstarter. A free trial access is available on Enprompt 360 website, and uninterrupted complimentary access, with following features, till launch for all Kickstarter Campaign Backers:
– AI Prompt Generator (No Daily Limit)
– Free built-in GPT 3.5 chatbot
Supporters who back this project on Kickstarter can enjoy their complimentary access within a span of 24 hours.
Raghav M
Enprompt 360
[email protected]
Visit us on social media:
Facebook
Twitter
LinkedIn
Other


Originally published at https://www.einpresswire.com/article/650530732/the-ai-prompts-generator-bridges-the-gap-in-interacting-with-ai