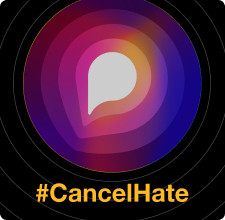 ROAD TOWN, Virgin Islands (British), March 31, 2023 (Newswire.com) - PureSquare has pledged to donate $1 for every tweet supporting their new initiative, #CancelHate, seeking to combat online hate and encourage people to come together to reclaim their power. Online hate speech has become an increasingly pressing issue in recent years, with social media platforms often serving as breeding grounds for divisive and harmful rhetoric. A study by UNESCO found that nearly one-third of internet users have experienced online harassment, and 73% have witnessed it.
The #CancelHate initiative is aimed at raising awareness and encouraging dialogue around issues of online hate and discrimination, and to support organizations that are working towards a more just and equitable society.
"We must choose empathy over anger, dialogue over division, and love over hate. Let us reclaim our autonomy, our mental health, and our sense of community. Let us use social media as a tool for good, and not let it use us. Let's build a better world for ourselves and future generations," said Uzair Gadit, PureSquare co-founder and CEO.
The company is providing a safety hub where individuals can access a wealth of resources, support, and a community of like-minded people committed to fighting against hate speech. On the #CancelHate safety hub, users will find a wealth of resources, support, and a community of individuals who are committed to fighting against hate speech and promoting mental wellness.
As part of the campaign, PureSquare is asking people to pledge and demonstrate their commitment to canceling hate. For every pledge taken, PureSquare will donate $1 to Life After Hate, a leading nonprofit organization that helps people promote tolerance, compassion, and understanding.
As a thank-you for taking the pledge, PureSquare is also offering a 10% discount on purchases made on their platform.
PureSquare is committed to making a difference and is calling on all individuals to join the #CancelHate campaign and stand up against online hate.
For more information, visit https://link.puresquare.com/MentalWellness
About PureSquare
PureSquare has a 15-year history of success through its subsidiary brands, including the industry-leading PureVPN. Leveraging its expertise and resources, PureSquare has built upon this legacy of excellence to drive innovation and growth across its entire portfolio, enabling each brand to thrive in its own right. Brands under PureSquare include PureVPN, PureKeep, PurePrivacy, PureEncrypt, PureDome and PureWL. For more information, visit www.puresquare.com.
Contact Information:
PureSquare Press
[email protected]
Original Source:
PureSquare Launches Anti-Harassment Initiative in Partnership With Life After Hate to Combat Online Hate