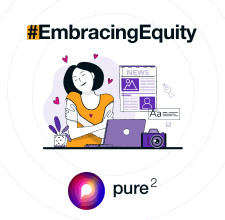 ROAD TOWN, Virgin Islands (British), March 11, 2023 (Newswire.com) - PureSquare, the parent company of PureVPN, announced a new initiative in celebration of International Women's Day, aimed at empowering women in journalism through the provision of free cybersecurity products. This initiative is part of the company's commitment to promote equity by working towards a world where women have equal opportunities and access to resources as men, and where they are able to live free from discrimination and violence.
Women in journalism have an immense impact on shaping public discourse, but they also bear the brunt of the unique challenges and risks that the digital world poses. According to the UN, 73% of women journalists in 125 countries have experienced online violence in the course of their work. PureSquare recognizes the urgency of the situation and is taking a proactive approach towards this year's IWD theme: #EmbraceEquity.
"We believe that true equity requires more than just words or symbolic gestures. It requires tangible action. As a cybersecurity company, we have a unique opportunity and responsibility to help create a more equitable online world," said Uzair Gadit, Co-Founder and CEO of PureSquare. "That's why we're proud to offer free cybersecurity tools to women journalists, empowering them to do their important work without fear of harassment."
The essential cybersecurity products include PureVPN, PureKeep, PureEncrypt, and PurePrivacy. PureVPN provides a secure connection between a journalist's device and the internet, preventing others from intercepting and accessing sensitive information. PureKeep helps women journalists create strong, unique passwords and keep them safe. PureEncrypt can help women journalists keep their data secure and private, preventing unauthorized access. Finally, PurePrivacy allows women journalists to take control of their social media accounts, managing who can see their posts, who can message them, and who can find them on the platform.
"We believe in the principle of equity and want to empower women by providing them with the necessary tools to succeed in the digital world," said Gadit.
This initiative builds upon PureSquare's previous campaign aimed at promoting mental wellness among content creators. The company recognizes the impact that online harassment can have on mental health, especially for women journalists who face a disproportionate amount of cyberbullying and abuse.
To apply for the free cybersecurity tools, journalists can fill out a form on the PureSquare website. The form requires their name, contact information, and a 100-word write-up about why they need these tools. PureSquare's team will review all applications and select recipients based on their eligibility.
For more information about the campaign, please visit: https://www.puresquare.com/cancelhate/pure-equity
About PureSquare
PureSquare has a 15-year history of success through its subsidiary brands, including the industry-leading PureVPN. Leveraging its expertise and resources, PureSquare has built upon this legacy of excellence to drive innovation across its entire portfolio, enabling each brand to thrive in its own right. Brands under PureSquare include PureVPN, PureKeep, PurePrivacy, PureEncrypt, PureDome and PureWL.
Contact Information:
PureSquare Press
[email protected]
Original Source:
PureSquare's PureVPN Among Free Cybersecurity Products Offered to Women Journalists on International Women's Day and Beyond - #EmbraceEquity