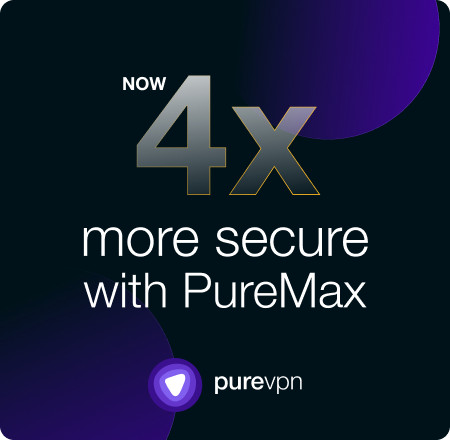 ROAD TOWN, Virgin Islands (British), May 17, 2023 (Newswire.com) - To mark its 16th anniversary, PureVPN, part of PureSquare, is revolutionizing users' digital security and privacy, enhancing them four-fold and setting the stage for a safer and more secure digital future. The VPN company's commitment to empowering users with top-notch security & privacy solutions has led it to introduce a suite of groundbreaking products: PureMax.
With the launch of PureMax, users now have access to a range of best-in-class products that all work behind a unified user profile and authentication, including an industry-leading VPN, a secure password manager, a digital privacy manager, and a data encryption tool.
This milestone not only marks a moment of celebration but also signifies the beginning of a new era in PureVPN's commitment to providing holistic cybersecurity protection for its users.
"Our commitment to delivering the best user experience has always been at the core of our mission," stated Uzair Gadit, co-founder and CEO of PureSquare. "With the introduction of PureMax, we are taking a significant leap forward in our mission to provide our customers with the highest standards of privacy and security. This is just the beginning of our continuous efforts to create a holistic cybersecurity solution that meets the evolving needs of our users."
With PureMax, users get access to a suite of innovative tools, including:
PureVPN, allowing users to work more securely, bypass regional restrictions, and access the internet with peace of mind.
PurePrivacy, a one-stop solution for safeguarding users' digital footprint. With PurePrivacy, users have the power to take back control of their online presence.
PureKeep, creating and managing meticulously-crafted passwords, eliminating the risks associated with weak or reused passwords.
PureEncrypt, encrypting user data so that unauthorized access is virtually impossible.
As PureVPN embarks on this transformative journey, the company remains committed to continuously enhancing and expanding its product offerings. PureMax is just the first step towards building a holistic cybersecurity framework that addresses the diverse challenges faced by users today.
PureVPN has been providing secure and private internet access to users since 2007. The company has a global network of servers, which enables users to connect to the internet securely and with complete privacy. With features such as Domain Fronting, high-speed protocols like WireGuard and Proxy, a strict no-log policy, and support across major platforms, PureVPN is trusted by millions of users around the world. In early 2023, PureSquare was launched as the parent company of PureVPN and its subsidiary products.
For more information on the PureVPN anniversary bundle pack, please visit https://link.purevpn.com/Pure-Max
About PureVPN:
PureVPN is a leading VPN service provider that offers state-of-the-art privacy and security solutions to users worldwide. With over 6,500 servers in more than 70+ locations, PureVPN provides users with fast, reliable, and secure connections that enable them to enjoy their favorite content, stay productive, and stay safe online.
Contact Information:
PureSquare Press
[email protected]
Original Source:
PureVPN: 16 years strong and 4x more secure