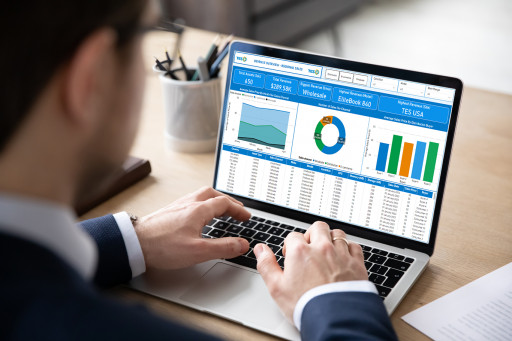 SINGAPORE, May 16, 2023 (Newswire.com) - TES' IT asset disposition (ITAD) services have been making a difference: organizations worldwide have reduced their environmental impact while also maximizing the financial value of their used devices.
TES, a global leader in sustainable technology services, has expanded its global owned-and-operated facility footprint to over two and a half million square feet, assisting companies with lifecycle solutions for their technology assets.
"As Global companies increasingly prioritize sustainability and seek to maximize their return on investment, IT asset disposition has become a critical consideration," said Eric Ingebretsen, Chief Commercial Officer for TES.
TES can help businesses maximize their asset value by leveraging their global data analytics engine that guides where assets are sold, to what strata and type of buyer, and for what price.
"Our extensive global presence and industry analytic capabilities empower us to maximize the ROI for our clients on their devices," Ingebretsen explained. "By leveraging our pricing analytics engine, we have unparalleled insights into pricing history, buyers around the world, and market trends, allowing us to optimize the resale value of IT assets."
With a physical presence in over 20 countries, TES has a unique vantage point in understanding the nuances of local markets and adjusting strategies accordingly. This enables TES to set pricing standards and pivot sales of the material to regions and buyers where pricing is the highest. "Our in-depth knowledge of buyers' preferences, market highs and lows, and how global events impact our market helps us to make strategic decisions that maximize value for our clients," Ingebretsen said.
TES' comprehensive approach to ITAD, combined with its unmatched visibility and data-driven insights, ensures that clients receive the best possible return on their investments. "Our global network of facilities gives us a physical presence that better connects us to the strongest buyers in the regions we operate in. That, coupled with our pricing analytics engine, allows TES to identify outlets for technology material that many of our competitors will not be able to access," Ingebretsen added. "At TES, we are dedicated to helping businesses navigate the complexities of IT lifecycle management, ensuring they can focus on their core operations while we optimize their assets' value and minimize environmental impact."
IT assets in lots of cases can be refurbished and resold to generate revenue and help offset the cost of new equipment. TES' technology lifecycle solutions ensure that devices are repurposed to their fullest extent, allowing for units to be cleared of all previous data, refurbished, and resold. In doing so, TES' sales channels allow for the average consumer to purchase and acquire functional technology while businesses see the best return on investment from the pre-used tech. Meanwhile, technology that has reached the end of its lifecycle can still find value through the reselling of its components, including batteries and chips.
TES' expertise aids businesses in picking the most opportune moment to move their tech further along in its lifecycle before the value of the materials can degrade. "Using our analytics engine, we can plot out the erosion in pricing a device will see over time. Businesses can leverage this information to make decisions about the right time to retire their devices," Ingebretsen said.
For more information, visit the TES website at www.tes-amm.com.

About TES
Since our formation in 2005, TES has grown to become a global leader in sustainable technology services and bespoke solutions that help clients manage the commissioning, deployment, and retirement of technology devices and components.
We provide comprehensive services for technology devices throughout their lifecycle — from deployment to decommissioning to disposition — all the way through to recycling and end-of-life repurposing. This includes innovating new processes to leverage the value locked in assets if they are to be recycled, such as our proprietary lithium battery recycling process, which extracts scarce materials from used batteries at purity rates high enough that they can be reused in the manufacturing supply chain.
We have made it our mission to make a decade of difference by securely, safely, and sustainably transforming and repurposing one billion kgs of assets by 2030. Our 43 owned facilities across 21 countries offer unmatched service-level consistency, consistent commercials, lower logistics costs, local compliance experts in-region, support in local time zones and languages, and a deep understanding of transboundary movement globally. For more information, visit www.tes-amm.com.
Contact Information:
Anne Weiser
Client Success Manager
[email protected]
941-586-6765
Maria Penaloza
Media Advantage Strategist
[email protected]
Original Source:
TES Helps Businesses With Their Asset Disposition to Achieve Sustainability Goals & Reach a Higher ROI