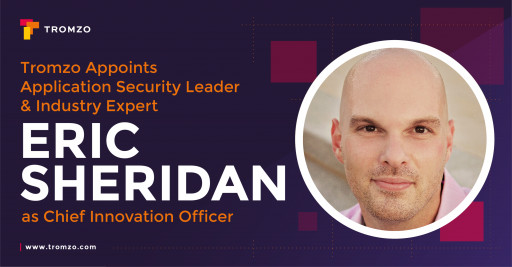 Former WhiteHat Security Chief Scientist Joins Tromzo to Lead the Company Through Rapid Growth and Accelerating Demand for Risk Remediation from Code to Cloud
MOUNTAIN VIEW, Calif., March 28, 2023 (Newswire.com) - Tromzo, the leading Product Security Operating Platform that accelerates remediation of risks from code to cloud, welcomes Eric Sheridan as the company's Chief Innovation Officer. Eric is an accomplished Product and Engineering leader with nearly 20 years of experience in delivering customer-focused and outcome-driven solutions. His entrepreneurial and innovative spirit has culminated in the release of more than 7 product lines. Eric has a proven record of leading successful Product, Innovation, and R&D teams.
Tromzo's CEO and Co-founder, Harshil Parikh, expressed his enthusiasm for the appointment: "We're thrilled to have Eric join our team. His wealth of experience and proven track record in driving innovation make him the perfect fit to help Tromzo reach new heights. As we continue our rapid growth, Eric's expertise will be invaluable in delivering even more value to our customers, shaping the future of our platform and honestly, shaping the future of our industry."
Commenting on his new role at Tromzo, Eric said: "I'm honored to join Tromzo at such a pivotal time in the company's growth. The team has already achieved impressive results, and I look forward to helping this team further develop and expand Tromzo's cutting-edge security solutions. Product security teams around the globe are suffering from a massive data problem, and I truly believe Tromzo is best suited to solve it at scale. We're going to revolutionize the way organizations manage risk; from the moment someone writes a piece of code to when that code is deployed in the cloud, Tromzo will be there by your side."
In addition, Tromzo has seen impressive growth in 2022 with a 5x increase in customers and a doubling of employees. This exceptional growth underscores the pivotal role Tromzo's platform plays in reshaping how organizations manage risk within their software delivery pipelines.
Complementing Tromzo's achievements is the ongoing commitment to investing in technology partners. While maintaining its vendor-agnostic approach with more than 60 integrations, the Tromzo team is diligently working on native integrations to support large enterprise environments. Notable recent partnerships include industry leaders Snyk, Synopsys, Semgrep, and Wiz, demonstrating Tromzo's dedication to offering cutting-edge solutions to its clients.
To learn more about why Eric joined the team, listen to his recent episode on the Future of Application Security Podcast.
About Tromzo
Tromzo accelerates remediation of risks from code to cloud. By integrating with existing development and security tools, Tromzo builds a comprehensive software artifact inventory and ownership model with intelligent context from code to cloud - enabling users to automate the complete remediation lifecycle of issues that truly matter. Backed by top investors including Innovation Endeavors, Operator Partners, SVCI and 25+ leading CISOs.
For more information, visit www.tromzo.com and follow us on LinkedIn and Twitter.
Contact Information:
Holly H
[email protected]
Original Source:
Tromzo Appoints Application Security Leader & Industry Expert Eric Sheridan as Chief Innovation Officer