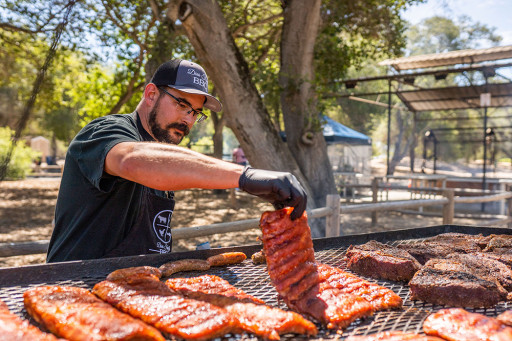 California's notorious barbecue is 'steaking' its claim as the West's best barbecue, inviting others to experience Sizzle Central
Santa Maria Valley is Sizzle Central
Santa Maria Style put West Coast barbecue on the map 150 years ago. Now, Santa Maria Valley is 'steaking' its claim. Tune in, follow along, and come see how this slice of California's Central Coast celebrates Barbecue Month, #SantaMariaStyle.
SANTA MARIA, Calif., May 1, 2023 (Newswire.com) - Big, bold and ready to showdown and throwdown — this is Sizzle Central. A 30-mile stretch of California's Central Coast, Santa Maria Valley and its expert Santa Maria Style pit masters are prepped and ready to share their expert flavor (and hot takes) with the rest of the world. In honor of National Barbecue Month, Santa Maria Valley will transform into Sizzle Central, an unscripted, spicy and unexpected celebration of all things Santa Maria Style barbecue and is guaranteed to make the culinary world take notice.
No soggy bottoms.
Sauce is out, spice is in, and Santa Maria Valley is entering the chat with tips on how to grill Santa Maria Style. Santa Maria Valley will be calling out barbecue techniques via its social media channels, challenging the status quo and even offering grilling tips in a Home Chef Throwdown, where anyone can upload their personal barbecue "how tos" to Instagram and/or TikTok tagging @SantaMariaValley and using #SizzleCentral hashtag.
To kick things off, Santa Maria Valley is sharing just what you need to get started. An updated Santa Maria Style Cookbook is available to download for free and is full of Santa Maria Style recipes and tips.
Tri-tip + wine country = A match made in heaven. Sip on that, Texas.
So, what sets Santa Maria Style barbecue apart from the rest? (There is no competition as far as Santa Maria Valley is concerned.) Here at Sizzle Central, barbecue isn't a smoke show, rather, it's a spiced-up, red-oak-fired, perfectly wine-paired flavor found in a foodie's dream destination.
"Santa Maria Style barbecue is in a category of its own compared to other styles of barbecue because of how we cook the meats," said Jaime Flores, Santa Maria Valley pitmaster and founder of the Santa Maria Barbecue Festival. "We cook on an open pit and control the heat by raising and lowering our grill. This open pit style allows the meats to cook evenly and the red oak smoke flavors the meats, which are seasoned with a dry seasoning usually consisting of salt, pepper and garlic. With these attributes to our style, there is no reason to sauce the meat."
Each year, hundreds of people gather in mid-May (May 13, this year) for the annual Santa Maria Barbecue Festival, a celebration of grilling Santa Maria Style. The cornerstone of the event is a professional competition with local celebrity judges that vote on the Best Barbecue in Santa Maria Valley as local businesses and professionals compete for bragging rights and the first-place Branding Iron award. There is also a separate competition for "best backyard cook."
"The differences between East, West, North and South vary greatly," said Anthony Minniti, Santa Maria Valley pitmaster. "Each style differs in cooking time, temperature, rub or no rub, and, when applicable, the sauce. I love them all, however, I think Santa Maria Style is the purest form of barbecue because of its balance and simplicity."
Santa Maria Style barbecue started in the mid-19th century when the rancheros gathered to help each other brand their calves each spring. As a thank-you to fellow vaqueros — America's first cowboys — the host would prepare a Spanish-style barbecue, consisting of beef barbecued over a red-oak fire, served with Pinquito beans, bread, salsa and homemade desserts. The region's flagship varieties also pair perfectly with barbecue — cool-climate Pinot Noir, Chardonnay and Syrah — all "bold but gentle" and paired perfectly with barbecue.
So, what are you waiting for? Come to Sizzle Central (whether in person or at home) and experience Santa Maria Style barbecue either for the first time or again and again. Of course, there's no better way than to get the complete Santa Maria Style experience than in person. With 15 beaches and 34 tasting rooms all within a 30-minute drive, Santa Maria Valley is the perfect home base to do more for less. Explore all you can do in and around the valley. For more information, visit santamariavalley.com.
Media Note: Media interested in speaking with a pitmaster, joining the Home Chef Throwdown or experiencing the region to check out all its flavors, please email [email protected]. Media Familiarization Tours are available for interested media on assignment.
Photo Cutline: This May (aka National Barbecue Month), Santa Maria Valley is Sizzle Central. A variety of multimedia and photo assets are available for download and media use.
About Santa Maria Valley:
Serving the greater Santa Maria Valley in the heart of California's Central Coast, the Santa Maria Valley Chamber of Commerce and Visitors Bureau is a nonprofit association that facilitates local tourism and provides information on the region's many attractions and visitor services. Famed for its fine wines, natural wonders, agricultural heritage and flavorful barbecue, the Santa Maria Valley offers a broad range of cultural, sporting and historical experiences. For details on Santa Maria Valley lodging, wine tasting, travel deals and e-newsletter alerts, visit santamariavalley.com or call (800) 331-3779.
Contact Information:
Nicole Shearer
Director of Public Relations
[email protected]
530-448-6485
Original Source:
Santa Maria Valley Becomes Sizzle Central This May